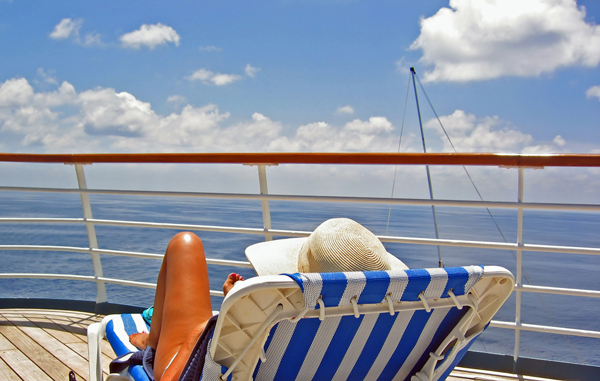 Perhaps you have your sights set on the cruise of your dreams but can't find a companion available when you are. Maybe you've thought about going it alone, but you're afraid you'll be bored or lonely all by yourself, even on a ship with a few thousand other people. Here are five reasons why you should give cruising solo a try.
You make the decisions. Cruising with family and friends is a great way to reconnect, but it also can be stressful. Coordinating individual schedules, budgets and interests takes work and compromise. Instead, go alone and cruise on your terms.
Cruise when YOU want. Perhaps your spouse is a teacher and is confined to summer and holiday breaks for vacation options. Since you may have an opportunity to take advantage of off-season price reductions, a new or different itinerary, and opportune weather, why not try cruising while the kids are in school.
Opportunities to try something new. You'd love to try horseback riding on the beach, but your spouse is allergic to animals. You've always wanted to try parasailing, but your best friend has no sense of adventure. You've been dying for a helicopter ride over the Alaska wilderness, but you're significant other is afraid of heights. Cruising on your own lets you do the things you've always dreamed of without the feeling of leaving someone out. Maybe you just want to do absolutely nothing. That's the beauty of cruising on your own. Do whatever you want, whenever you want.
Make new friends. Sure, you can make new friends when you cruise with your spouse, but he or she may prefer a table for two while you like to mingle at a table for 8. Cruising solo is a great way to meet people and form lifelong friendships. In fact, lines like Norwegian and Holland America have programs and activities organized with solos and singles in mind. No planning needed – just sign up on board.
Affordable single prices are becoming easier to find. Pricing for single occupancy has customarily been nearly equal to the price for double occupancy, but this one deterrent to solo cruising is changing for the better. Norwegian, for instance, has built studio cabins into their new ships, with affordable pricing and a nearby lounge just for you and your fellow solo cruisers. Sales occur frequently on most lines either discounting the single rate or waiving it entirely. Ask your agent or the cruise line about special single rates.
Just because you can't find a cruise companion doesn't mean you have to sacrifice a much-needed break. Pack your bags and reward yourself with a great cruise experience.
By Janice Neves, CruiseCrazies contributor
Re-posted on CruiseCrazies.com - Cruise News, Articles, Forums, Packing List, Ship Tracker, and more.
Please visit CruiseCrazies.com for more cruise news & articles.
Featured photo credit: Singles Holiday dot com