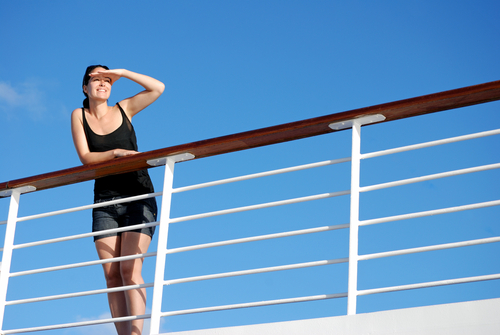 Cruising is becoming increasingly popular with all walks of life as an estimated 20 million people plan on taking a cruise in 2012. The cruise industry caters for every need whether it's a family vacation, a Caribbean holiday or an Alaska cruise; You just need to find the right one for you. If you are a solo cruiser, however, there are some other factors to consider. First, many cruise lines charge a single supplement. Since only one person occupies a cabin that could usually fit two, cruise lines tend to charge single travellers for the 'missing' passenger. But some players in the industry have realized the sales potential for solo cruisers and now offer single cabins or great bargains for single cruisers. Second, you also want to think about the onboard activities. Not all cruise lines offer the same onboard activities. Some are targeted towards at families and couples, while others focus on single travellers. Here are some of the best ships for solo cruisers:
Norwegian Epic
The Norwegian Cruise Line made headlines two years ago when it announced it would no longer charge a single supplement. On the NCL's newest ship, Norwegian Epic, a whole section is dedicated to solo cruisers. There are 128 studio cabins of 100 square feet, 30 square feet smaller than a standard inside cabin, but big enough considering that you will spend most of the time outside the room anyway. The ship has plenty to offer to pass the time. There are 20 restaurants, ten bars and lounges (including an Ice Bar), several night-time entertainment shows such as the Blue Man Group, an Aqua Park, a spa, a fitness center, as well as a casino. Every night there is a solo cruisers meeting in a lounge that is solely designated to single cruisers and located within close proximity of the single cabins. On a message board in the solo lounge you can keep in touch with other people and make arrangements for the evening or the next day's sightseeing activities.
Azura
Also since 2010, P&O Cruises offers 18 dedicated single cabins on Azura. With 130 square feet, the rooms are slightly larger than the ones on the Norwegian Epic. They are all located on one central corridor which can be handy to socialize with other single cruisers. There is a cocktail party on the first night where solo cruisers can get together and make plans on the entertainment options to choose from. On Azura, you can watch theatre performances, play in the casino, or have a drink in the Planet Bar. If you are looking to indulge a little, enjoy a relaxing day at the spa or work out in the fitness center.
Saga Ruby and Saga Pearl II
While the Norwegian Epic and Azura cater for all age groups, the Saga Ruby and Saga Pearl II are ships which attract mostly cruisers over 50. Saga Holidays is the perfect choice for travellers who prefer a child-free ship that is unpretentious yet classy. There are 92 single cabins on the Saga Ruby and 60 single cabins on the Saga Pearl II. The ship hosts lectures, social functions and entertainment shows every night. Bands fill the various lounges and bars with live music and male dance hosts are provided for single women.
Celebrity Century
Celebrity Cruises is one of the most popular luxury lines for solo travellers who like to indulge themselves. Although the ship doesn't offer single cabins, it offers to match you with other single cruisers to share the room and the price. With 178 square feet the cabins are one of the biggest in the cruise industry, making it very comfortable to share the room. Solo cruisers are attracted to the Century because of its many activities onboard. It hosts 'meet and mingle' parties, gentlemen dance partners and group-orientated programs such as cooking or wine tasting. A big plus of the Celebrity Century is its size. It can fit 1,800 passengers and is not as big as other ships so the atmosphere is very friendly and reminds of a big community – making it easier to meet new people.