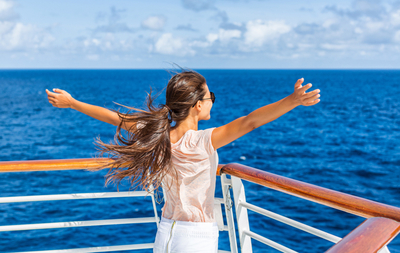 When it comes to cruising, many people have come to believe that the most important "ship" is kinship. People usually like to bring their companions, co-workers, family members and the like along on cruises. But what if you're a solo traveler?
A J.D. Power cruise industry report says that, "Cruises are best when experienced in groups. From organized groups to friends, family, children, partners and spouses, cruises are just more fun in groups than when traveling alone." But depending on your circumstances, traveling with another person may not be an option.
Cruise lines know this, so they're catering to single travelers like never before. Nearly 80% of travel agents reported an increased in cruise bookings in 2018, many of them from singles looking to get away and go it alone, according to the Cruise Lines International Association. If you're thinking of booking a solo cruise, the key is to do your homework and find out what specific amenities, packages and programs each cruise ship is offering.
Many cruise liners are trying to make solo travelers feel at home — but not all of them. Some cruise liners don't even offer studio cabins, preferring to feature spacious staterooms instead. That said, here are some of the best cruise lines for solo travelers:
Crystal Cruises
Crystal Cruises has been lauded as one of the top luxury cruise companies in the world. The cruise line's Crystal Symphony was ranked #1 cruise for singles by U.S. News & World Report. The Symphony, which underwent a major renovation in 2017, has all the latest and greatest amenities when it comes to technology, including free and unlimited Wi-Fi,  and spacious suites and penthouses.
The Symphony makes single travelers want to spend much of their time outside their rooms, as well. The ship's bevy of extras, including musical performances, fitness programs and dance lessons, puts it over the top for solo travelers. U.S. News & World Report says that all of its accommodations have ocean views and more than half come with verandas. Crystal also offers special deals for solo travelers.
Holland America Line
Another carrier that caters to solo travelers is Holland America Line, which has the well-regarded Single Partners Program. Included in the program is a Solo Travelers Party, which is design to break the ice among those vacationing alone. To save on costs, singles are also permitted to share rooms with same-sex fellow travelers.
In total, there are more than 40 activities designed to help you meet other singles including: exercise classes, enriching lectures (select departures), line dance classes, wine tastings and cooking demonstrations, Team Trivia contests, the daily quiz, sports challenges and more, according to a Holland America fact sheet.
Norwegian Cruise Lines
For some alone time on the high seas, Norwegian Cruise Lines has become a great option for single travelers. Since 2010, Norwegian has led the trend of studio cabins, featuring the most of any major cruise line. These affordable spaces are perfect for single travelers, and some ships allow occupants to hang out in a space called the Studio Complex and Lounge.  Here is what Norwegian says on its website about its studio cabins:
Our award-winning Studios are the first accommodations specifically designed and priced for solo travelers. Running up to 100 sq. ft., they are an industry first, giving solo cruisers the most affordable and stylish way to cruise. As a Studio guest, you will have exclusive key card access to the Studio Complex and Lounge. This shared private area is where you can stretch out, have a drink, order room service, watch the big-screen TV and meet your neighbors.
Royal Caribbean International
If you're budget-minded, Royal Caribbean International scores big points for solo travelers by waiving the single supplement fee on select cruises. This means that those who book Royal Caribbean International's single staterooms won't be charged a fee (usually 10% to 100%) to occupy a room meant for two people.
Cunard Cruise Line
Also catering to singles is Cunard Cruise Lines, which renovated its ships to feature spacious solo staterooms across its fleet, including the Queen Mary 2, Queen Victoria and Queen Elizabeth. These staterooms are a significant upgrade compared to studio cabins.
When it comes to activities, singles should find that Cunard makes it easy to socialize and meet new people. The Queen Mary 2's Queen's Room has the largest dance floor of any cruise ship, while the Golden Lion is a famed gathering place in the tradition of an English pub. For live entertainment, the Queen Victoria's Royal Court Theatre features West-End style shows and more.
Conclusion
As you can see, cruising while single is definitely a thing. One thing to remember is that just because a ship has studio cabins doesn't mean that it caters to singles — and studio cabins may not necessarily be the cheapest option in every case. On some ships, staterooms may be more affordable. You'll need to shop around!
By Craig Johnson, Clark.com
Re-posted on CruiseCrazies.com - Cruise News, Articles, Forums, Packing List, Ship Tracker, and more
For more cruise news and articles go to https://www.cruisecrazies.com