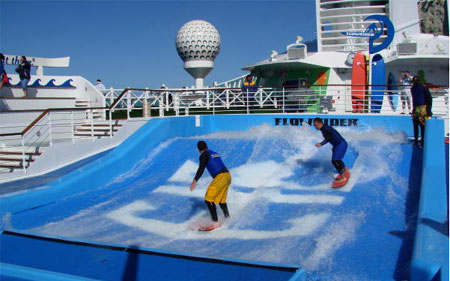 You likely selected your cruise based on its ports of call. You know what you're going to do when you get to the beaches and shops of Acapulco or to the glaciers in Alaska, but what do you do during the days At Sea? Cruise lines have been working diligently to come up with some very creative answers to this question. In fact, competition is heated between various companies to get your attention and your cruising dollar.
Not Your Average Swimming Pool: Yes, you can swim on a cruise, but depending on the cruise line, you may be able to surf, too! Royal Caribbean, for example, is appealing to the daredevil water lovers and have invested in cutting-edge water features that will allow you to surf on a FlowRider system, play in a water park (Carnival calls it WaterWorks) and jump around on a splash pad.
Movies: Many cruise ships have long had on-board movies, but the new trend is to set up a giant projector screen outside, usually above the pool area. Guests can sit in the deck chairs and relax to watch a movie under the stars, while enjoying the soothing ocean breeze.
Casino: Gambling is a popular pastime on many cruise ships, including table games, slot machines, and video poker.
Internet Café: Whether you need to check in with work or feel the need to update your Facebook status, all cruises offer an internet connection, whether in the library or in a Wi-Fi internet café. (Note: Internet access on some lines can be spotty and/or expensive, so if your ability to blog while at sea is essential to your happiness, check with your cruise line beforehand for additional information).
Planetarium: In an effort to compete for your business, the Cunard line's Queen Mary 2 has the industry's first shipboard planetarium.
Spa: Indulge yourself on "At Sea" days within the ship's spa. Services range from manicures to mud baths and everything in between. Be warned, though: These services come at an additional fee.
Ice Rinks: Royal Caribbean cruises offer passengers the chance to strap on a pair of ice skates and take a spin around the ice rink.
Rock Climbing Walls: Once unique, these ubiquitous climbing walls are now on many ships but still give passengers the chance to belay with a view.
Sports: Golf and basketball join the traditional bocce ball, shuffle board, volleyball, all making for a fun afternoon with family and new friends while "At Sea."
Ice Bar: It may seem like an oxymoron to go on a cruise in order to get away from the cold weather, and then turn around and don winter coats to have a drink in an ice bar. Yet many people (aboard the Norwegian Epic) enjoy the uniqueness of this activity, particularly if they're wearing their swimsuits under their parkas.
Whatever your pleasure, your activities for keeping busy are endless aboard a cruise ship. In fact, there is so much to do you may not even want to leave the ship and return back home 'to reality.'