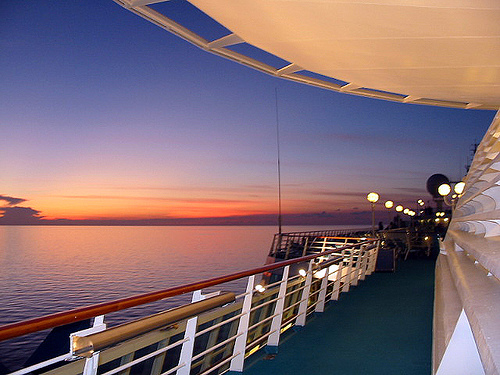 7 BIGGEST MISTAKES PEOPLE MAKE ON CRUISES
Written By Michael Webb
Going on a cruise will be one of the most fun and memorable experiences of your life but without some important information your fantastic trip could become a total disaster.
Here are the 7 biggest mistakes people make on cruises and how to avoid them.
1. Booking your cruise TOO late - Book at least 3 - 6 months in advance and pay in full to save up to 15% on your trip. Doing so you'll also get the best choice of stateroom and the biggest discount on your cruise. Remember, cruises are cheaper in the off-season.
2. Lacking the required passport and documentation - Before you leave make sure you have the correct documents to travel to all the ports during your trip. Imagine having to stay on the ship while everyone else has fun on land.
3. Choosing a bad place for a stateroom - Some staterooms will seem appealing in price but don't be fooled the following should always be avoided: Rooms just below the disco, next to the elevator, below a gym or restaurant or a lounge. (Unless of course, you like the excessive noise :)
4. Not making your luggage stand out - The last thing you want is someone else grabbing your luggage because they thought it was their bag. It could be days before they locate your bag with thousands of people onboard a large cruise ship. Tie some brightly colored string or duct tape in a unique way onto your handle that makes it individual and stand out.
5. Thinking you'll save money in town - Most people think that prices must be cheaper in port because they're no longer forced to the ship's prices. Be careful. Many of these merchants are ready for tourists and often sell inferior products at similar prices.
6. Not looking at the "all included" meals fine print - While food is often included in the cruise price itself, most of the time, alcohol is not. Just understand that you are probably paying for it and drink according to your budget.
7. Not eating often enough - Did you know that eating 6 smaller meals on a cruise is better than 3 bigger meals? And considering the average person gains 10 pounds on a 7-day cruise, it's worth gaining some insights into maintaining your weight. Nothing's worse than coming home from a cruise only to realize you need to lose 20 pounds.
So there you have it - 7 great ways to get the most out of your cruise.
About the Author:
Michael Webb is the author of "How To Lose Weight While Eating Like Royalty On a Cruise", helping fellow cruisers stay in shape while still feeling like they're on the vacation of a lifetime. To read more, click here.