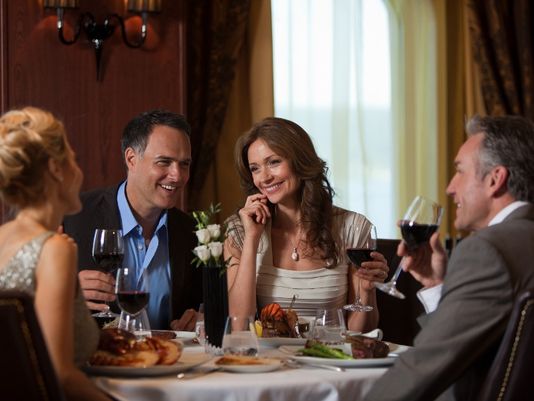 Disney Cruise Line's new policy that allows cruise passengers to wear shorts in the line's main restaurants conjures up an image of a lot of people dressed like Mickey Mouse. But it also signals a trend.
Cruise vacations are getting more casual, in response to cruise passengers showing an increasing preference for not dressing up.
Even Cunard, a favorite of the proper British set, recently dropped its requirement that men wear ties at dinner on casual nights, although jackets are still required.
While it remains to be seen whether other lines will loosen their policies, a can of worms may have been opened.
One issue: Dress codes often lack enforcement.
A few years ago, a fellow at a table next to mine on a Carnival ship ignored the line's dress code and wore a muscle shirt, jeans and a baseball cap to dinner. I spent much of the meal staring at his various tattoos, well on display.
Carnival's policy, according to a line spokesman, is that the maitre d' and dining room restaurant hosts check dress codes. Enforcement may be another matter.
Most cruise lines send the same basic message when it comes to appropriate casual dining room attire.
Carnival: "Shorts, gym shorts, basketball shorts, beach flip-flops, bathing suit attire, cut-off jeans, sleeveless shirts for men and baseball hats" are banned at dinner in main dining rooms. The line also bans the use of "any footwear with wheels" anywhere on its ships.
For Royal Caribbean, shorts, t-shirts and bathing suits are not allowed in main dining rooms. The line suggests instead: "Sport shirts and slacks for men, sundresses or pants for women."
In main dining rooms, Norwegian Cruise Line does not allow "tank tops for men, flip flops, baseball caps, visors and jeans that are overly faded, with holes or tears and worn below the hips." Kids age 12 and under can wear shorts and for men on Bermuda cruises, "traditional Bermuda shorts along with long socks, loafers and a blazer are all acceptable."
Those who want to dress down on any of the lines have the option of the buffet restaurant. Conversely those who want to dress up are free to do so, especially on formal nights.
While Americans tend to be more relaxed, when I asked British cruise writer John Honeywell (who blogs as Captain Greybeard) his opinion in allowing shorts in shipboard dining rooms, he responded "Shorts are simply a step too far and one likely to provoke an epidemic of Heimlich maneuvers in a restaurant full of diners choking on their consommé."
He added, "Perhaps we should be grateful Disney did not follow Donald Duck's example – he never wears pants."
By Fran Golden, Special to USA Today
For more cruise news & articles go to http://www.cruisecrazies.com/index.html
Re-posted on CruiseCrazies.com - Cruise News, Articles, Forums, Packing List, Ship Tracker, and more