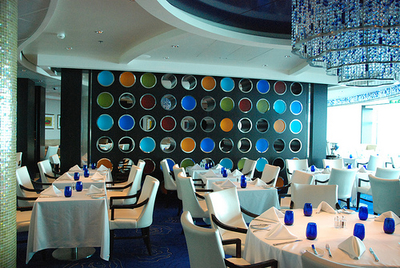 If you are in need of a vacation, but do not have the budget to stay in a five-star hotel, eat in chic restaurants and spend each night at a Broadway show, consider going on a cruise. Cruise lines offer budget-minded vacationers the opportunity to take a luxurious vacation for a fraction of what it costs to go on vacation by land. It typically costs about $1,000 less to vacation on a cruise than it would cost for a land-based vacation. Cruises are considered all-inclusive, which means the lodging, meals, and entertainment are included in one price. However, there are some out of pocket expenses that can quickly tap into your budget. Here are some tips to make your first cruise more enjoyable, while staying within your budget.
Onboard Meals
Meals in the buffet area and the ship's main dining room are included in the cost of the cruise. However, cruise lines also have several dining venues that charge you for meals. There is a vast array of cuisine options to choose from on the buffet tables while the main dining room typically offers a fine dining experience, without the additional cost. If you prefer to have breakfast, snacks, or other meals in your cabin, room service is also included. There is usually some type of free meal available on the ship 24 hours a day.
Alcohol and Other Beverages
Unless you are on an ultra-deluxe cruise, the alcoholic beverages, soda, and bottled water cost extra. The most popular cruise lines, Carnival and Royal Caribbean, do not allow guests to bring any alcoholic beverages on board. If you purchase alcohol at one of the ports, you will be required to turn it in for the ship to hold until you disembark at your home port. Both Carnival and Royal Caribbean allow guests to bring a specified amount of soda and/or bottled water in luggage. To save money on alcoholic beverages, check for daily drink specials. When ordering the drink specials, the cocktail will usually be served in a souvenir glass, but you can request a regular glass. Tipping is expected and deserved, but be careful not to overtip. When you sign for the charge, there is an option to add a tip. However, the tip has already been included in your charges for the cruise, and most cruise lines include an additional percentage on the total bar bill.
Cell Phone Use
Most cruise lines have access to wireless phone use. However, some limit the use only to your cabin. Either way, using a cell phone on a cruise ship can be expensive. For example, Carnival charges an average of $.0195 / kb which comes out to be about $20 / MB, so sending one picture to family back home can cost as much as $100. While on board the ship you will have to pay roaming charges. If you have to use a cell phone while taking a cruise, the least expensive way is to contact your wireless service provider and find out about the policies, accessibility and roaming fees for your individual plan. Most carriers, including T-Mobile can usually switch your plan to international roaming, which is significantly less expensive than using the wireless accessibility provided by the ship. Also talk to your carrier about the possibility of an international rental. Some carriers will rent you a phone that has international calling access, which may be less expensive than paying the roaming charges.
Internet Use
If you absolutely insist on taking your laptop on board with you, this is one way to quickly go your budget. Although the charges for WiFi vary from ship to ship, they average about 75 cents per minute for the pay-as-you-go plans. It is typically less expensive to use the computers in the ship's cyber cafe, or wait until you dock in port and search for a cafe or other establishment that offers free WiFi.