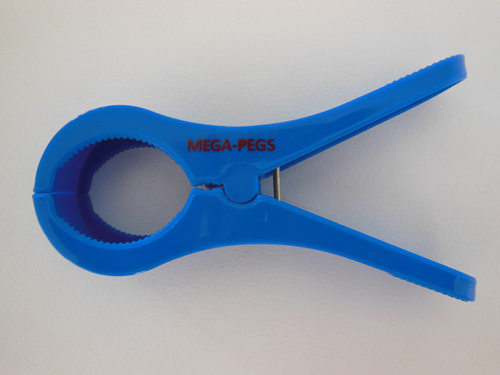 Mega-Pegs were first inspired after being used on Cruise Ships to keep towels from blowing away off the sunbeds in the high winds at sea.
Mega-Pegs are the must have item to use on yachts, cruise ships, camping trips, caravans, boating holidays and even in the garden at home.
Make towels blowing in the wind a thing of the past, dry clothes on sailing trips, and so many other uses!
At such a great value these pegs are the must have accessory for anyone travelling.
Mega-Pegs:
* Unlimited Uses
* Ergonomically Designed Grip
* Best Quality & Lowest Price
* Cruise Ships - Peg Beach Towels In Place
* Perfect At Home And On Holiday
* Boats & Yachts - Clips Over Side Rails
* Heavy Washing & Trainers - Securely Peg
* Many Uses When Camping & Caravanning
* Large Bags/Pet Food Bags - Peg Together
* Play Time For Kids - Dens & Painting Time
* They Float If Dropped In Water!
So many uses ... How will you use yours?
Note: When you purchase your Mega-Pegs from outside the UK, make sure you select the correct dropdown box as postage costs vary by country.