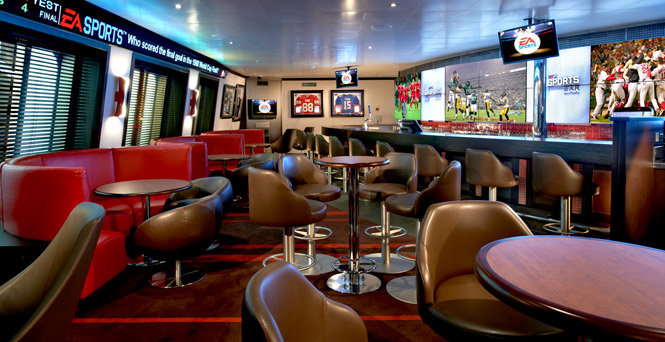 Your eagerly awaiting cruise vacation is coming up and you're excited about unwinding, exploring new things, making new friends and disconnecting from the world. If you're a sports fan, however, scheduling is paramount. When an upcoming cruise interferes with the big game of the season, you may feel torn between two things you love.
Cruising in international waters, you won't be able to tune in on the radio to listen to the game. But you may still be able to watch the game. These days most cruise lines have a variety of onboard television options perfect for following your teams while at sea. Some cruise lines have dedicated sports bars and sports lounges where you can mingle with other sports fans and watch the game.
One Carnival Cruise ship even has a dedicated EA Sports Bar where you can take on the other passengers in video games during the halftime show. Other cruise lines have started offering concierge lounges where passengers who have purchased a premium package can unwind. You may be able to watch the game on a big-screen TV with free cocktails if you've scored concierge privileges on Holland America, MSC Cruises or Norwegian Cruise Line.
Once you identify a suitable onboard venue for watching the game, ask the bartender or another cruise staff member whether you will be able to watch your game there. The television may be reserved for another game if you're hoping to catch a regular match-up. But if you're looking to watch the playoffs, rest assured that you're probably not the only one hoping to catch the game. For extremely popular events, the large poolside TV (if the ship has one) may even broadcast the game.
If you brought a laptop or tablet along, you may be able to watch the game in real time. DirecTV subscribers with NFL Sunday Ticket Max can stream content remotely, according to www.direct.tv. Most ships offer in-room wi-fi these days. If your ship does not have wi-fi in the rooms or if you forgot your personal computer, many ships have Internet cafes that would allow you to watch the game for a fee.
With so many options, your hardest problem might be remembering what time it is back home so you can catch the big game live. Cruise entertainment including sports events, comedy shows and love music might allow you to meet other sports fans. Look for the guys decked out in their team's hats or jerseys so you can make plans to watch the game. It's always better to watch in the company of other people also pumped about the game. If you run into fans of your team's major opponent, a little onboard rivalry makes things fun.
For more cruise news & articles go to http://www.cruisecrazies.com/index.html
Re-posted on CruiseCrazies.com - Cruise News, Articles, Forums, Packing List, Ship Tracker, and more