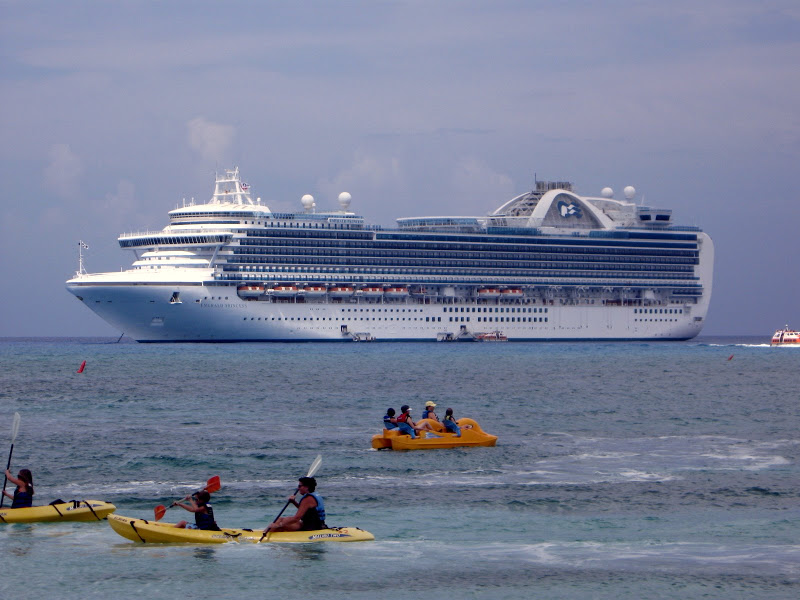 Your cruise is booked – now what? The next step is to plan for what you will see on the ship and in the ports you'll visit. With your reservation number, simply go to the cruise line's website and plan your meals, your excursions, make your spa appointments and much more! You will get the times and dates you want and avoid disappointment later when availability is limited.
Many features of your cruise can be booked in advance, saving you valuable time later.
Spa Appointments
Book that massage or facial in advance of your cruise, and you will be assured the time and date you prefer. This is especially true if you prefer that your visit to the spa take place on a sea day – that's when everyone else will want to be pampered, too.
The downside to booking your spa appointments in advance is the price. Once on board, you will most likely find daily spa deals or port-day specials. If you have no plans to go into port or choose just a couple of hours in town, book your appointment on a port day – and save money.
Dining Reservations
When you book a cruise, you will be asked to choose a dining preference – early traditional seating, late traditional seating or "anytime" dining.
With traditional dining, the time, dining venue and table size will be selected for you, and you will dine here with the same people each evening.
Many cruise lines now also allow reservations in advance for "anytime" dining, meaning the ability to eat at whatever time is convenient for you. Royal Caribbean, for instance, encourages cruisers to make daily reservations on line in advance for a table in the anytime dining room. Simply plan a time and choose a preferred table size. Some lines, like Princess, do not yet have dining reservations available on line, but they do have their ship "dine line", allowing for same day reservations. Making anytime dining reservations in advance may reduce your waiting time in line at the door.
Even better is the ability to reserve specialty restaurants or alternative dining in advance of your cruise. These are the menu or experience-enhanced types of dining for that special occasion or for something different and unique. When available, booking on line in advance gets you the date and table you want.
Special diets and requests
Your travel agent or the cruise line will note any special dietary requirements in advance. These can also be specified on your web account. It's always best to choose traditional dining in this case, as you will have the same waiter each evening, and hopefully he or she will remember your dietary restrictions each evening.
Shore Excursions
You will be visiting some amazing sites on your cruise, and some of the more tours to popular attractions sell out fast. Your cruise account will display the shore excursions available to you in each port you will visit. For a trip to the beach or a look around town, it's best to simply grab one of the many awaiting taxis at the pier, and avoid the time and expense of a ship excursion.
However, for excursions involving long or complicated travel, it might be best to choose a tour. If you have your heart set on a popular must-see attraction and you are counting on a ship excursion to get you there, don't wait. Go ahead and book on line from home in advance. You will avoid disappointment later when the tour sells out, and you will avoid the last minute crush of people at the excursion desk looking for tours.
This same advice is especially true if you are sightseeing independently with a local tour guide. Smaller local tour companies book up very early as they only handle a few travelers a day. If a private or smaller local tour is what you seek, plan early.
Show Tickets & Entertainment
Some cruise lines now allow you to book specific Broadway extravaganzas, comedy shows and other types of onboard entertainment on line in advance, assuring you a seat in the audience.
Drink & Soda Packages
Many cruise lines now offer drink packages for alcoholic and non-alcoholic beverages. If you are a heavy soda drinker, for instance, paying in advance for all-you-can drink pop will save you money.
Gifts for Yourself or Others
Champagne, wine, chocolates, flowers, anniversary packages and special occasion packages are all available to order in advance. Order for yourself or surprise someone! In fact, most lines will have a brochure and order form you can print or save to your computer for future reference.
Internet Minutes
Hooking up to the internet onboard a cruise ship is not cheap, but reduced price packages containing a bundle of minutes are sometimes available to order in advance. Most likely, you will have free minutes available to you if you are a loyalty customer.
Formal Wear
Do you like to dress to the nines? Do you need a tux or gown but don't want to pay an extra airline bag fee to lug it along? Order one in advance of your cruise and fancy duds will be waiting for you in your cabin.
If it can be reserved in advance, then book it!
No doubt, your cruise line will have other features not mentioned here available for pre-booking, so do your research. Basically, I follow a single rule when planning a cruise: if it's available in advance, book it. A little advanced planning long before reaching the gangway will allow you to really relax and enjoy your cruise.
By Janice Neves, CruiseCrazies Contributor
For more cruise news & articles go to http://www.cruisecra....com/index.html
Re-posted on CruiseCrazies.com - Cruise News, Articles, Forums, Packing List, Ship Tracker, and more