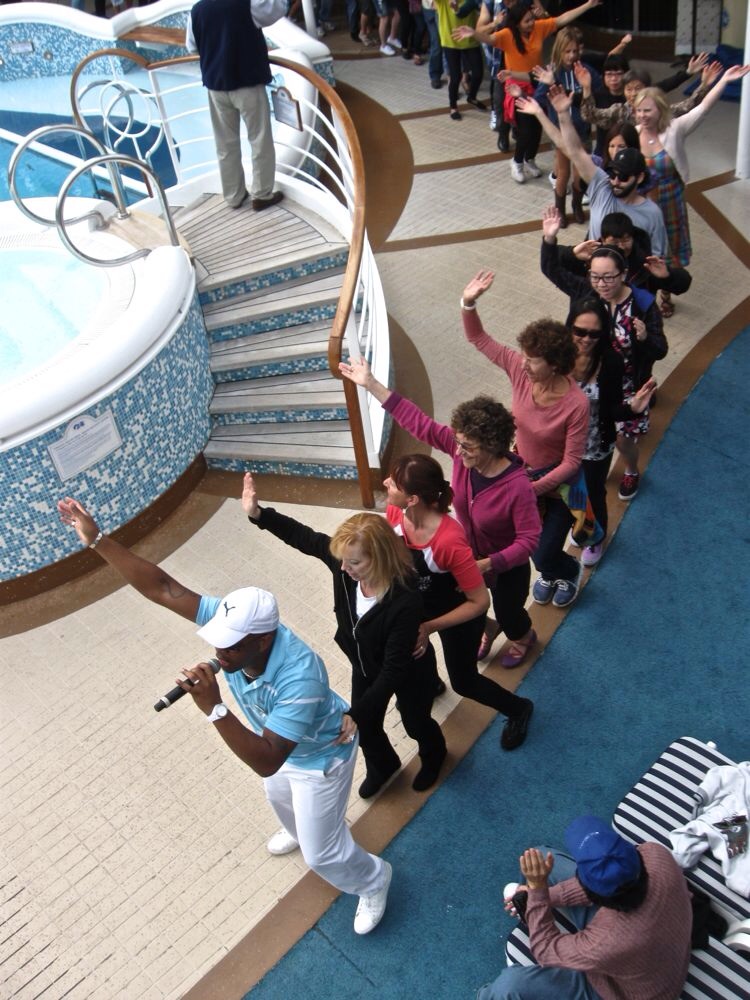 Even before I embarked on my first cruise 11 years ago, I always envisioned long, lazy days at sea. After all, the thought of lounging leisurely in the warm sea air was what sold me on the idea of a cruise vacation in the first place. Give me a towel, chair, a book and a tube of sunscreen, and I'm good to go. However, I do acknowledge that what works for me, might not work for someone else - my husband, for example. Don't get me wrong; he likes to relax, too, but not for a whole day. Not even for an hour. That's about the limit for his time in the sun before he's ready for something new. Like many other cruisers, he's a guy who likes to be entertained. He likes to keep busy. The more activities to choose from, the better. So while I might be hanging out with the other slugs by the pool, he could be perusing art, taking in a lecture, working out in the fitness center, or losing money ... whoops - I mean, trying his luck .... in the casino.
That's the beauty of a cruise vacation - it's your time away from it all, so do what feels right. If it's your first cruise, and you are looking to be entertained, here are some suggested activities to keep you busy. Keep in mind, of course, the larger and newer the ship, the more numerous and varied the activities.
1. Step out of Your Comfort Zone. Be adventurous and climb a rock wall. Fasten on that harness and strive to new heights. Fond of zip lining? Royal Caribbean has it. How about a ropes course? Carnival Magic has the first one ever at sea. Catch a wave in the surf pool or join the kids over at the water park.
2. Work Out. Head to the fitness center for some weight training, Zumba, cycles, treadmills and more, and work off those 4-course meals you're enjoying. Do a few laps around the jogging track. If mild activity is more your preference, take a stroll around the promenade deck.
3. Play Games. What would a cruise be without the hairy chest contest or the rubber chicken olympics? Activity directors dream up all kinds of crazy games and competitions. Don't be afraid to get silly.
4. Try Your Luck at the Slots. I like the casino, especially the slot machines - as long as I am winning. I hope you're luckier than I.
5. See a Movie. If you're the sedentary type or the sun has taken a vacation, leaving it rainy and chilly outside, take in a matinee in the ship's theater. If you're looking for a mid-day break from it all, catch a movie on the TV in your cabin.
6. Catch a Live Show. Production shows are not just for the evening any longer. For instance, Royal Caribbean offers up mid-day ice skating shows on their rinks, while Norwegian entertains the lunch crowd with a murder mystery meal.
7. Learn Something New. Think about it - when else will you find the time to learn a new skill? Cruise ships have a variety of ways to expand your mind. For instance, you might learn a language, try out a new recipe, learn ballroom dancing, paint pottery, take a photo class or learn new computer skills.
8. Take a Nap. If you're like me, you won't be able to stay awake for the late-night fun without a little afternoon siesta. Grab a few zzzz's, feel rejuvenated and ready to party!
9. Be Pampered. Book an appointment for a luxurious pampering. What's your pleasure? A massage? Botox? Teeth whitening? A facial? Perhaps a gooey wrap? The spa has the power to make you a new person. Sure, the service comes at a price. Just tell yourself, "I'm worth it."
10. Eat. If you really get bored, you can always rely on food. Start with early room service breakfast, then head to the buffet for second breakfast, followed by mid-morning coffee and pastry; then it's on to lunch, followed by the ice cream bar, a stop at the pizzeria, and a specialty coffee to keep you awake and alert. By this time, you're ready for afternoon tea. This is where a nap comes in, because all the food makes one tired. Get dressed, slap some water on your face, and it's time for dinner. A stop at the cafe for snacks followed by late-night room service, and your day of grazing is done. Don't forget to squeeze in some exercise, or at least take the stairs!
11. Drink and Be Merry! Do you prefer a liquid diet? There is a bar or lounge around every corner of the ship, and no shortage of spirits to imbibe. Pick your poison. Whether it's a bucket of beer, fine wine, or fruity umbrella drinks, you'll feel all warm and fuzzy inside. Just remember to drink responsibly. No one likes an obnoxious drunk.
12. Simply do nothing. Just because it's listed in the daily newsletter doesn't mean you have to participate. If sitting on deck and people-watching is more your style, by all means - indulge yourself. Hang around the pool and gaze in wonder at the hairy chests. Relax in the jacuzzi with a drink, close your eyes and just forget about life for a while. As I said before, it's your vacation!
By Janice Neves, CruiseCrazies Contributor
For more cruise news & articles go to http://www.cruisecrazies.com/index.html
Re-posted on CruiseCrazies.com - Cruise News, Articles, Forums, Packing List, Ship Tracker, and more.
Photo credit: Janice Neves