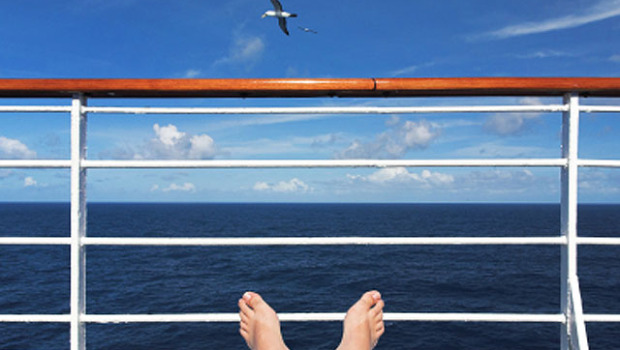 When Barry Vaudrin goes on a cruise, he packs the usual smart casual wardrobe, swimsuit and vacation excitement. He also carries a few extras: a video camera, microphone and curiosity about the ship, from what's cooking in the kitchen to how the engines work. The Bloomington resident is host of a podcast called "Cruising Authority," and once aboard, he interviews the crew and shoots detailed footage for the show, featured on his website, www.cruisetalkshow.com. Vaudrin has been on more than 300 cruises, including a recent Atlantic crossing on the Queen Mary 2.
Q: When did you become smitten with cruises, and when did you take your first?
A: My first actual cruise was a three-night trip out of San Pedro, Calif., to Ensenada, Mexico, in 1985 aboard the Azure Seas, which sadly was scrapped a few years ago. I was fascinated with ocean liners and cruise ships after visiting the Queen Mary in Long Beach, Calif., in 1977. Of course that was when "The Love Boat" was on every Saturday night, and that fueled my desire to cruise even more.
In 1987, I made my first crossing from England to New York aboard Queen Elizabeth 2. While in college, I took a break and worked on cruise ships for about two years, which led to me working as an entertainer and finally a cruise director. I also sold cruises as a part-time business while in college, and worked as a consultant to travel agents.
Fast-forward to 2007, when I stumbled on the idea to produce a podcast about the cruise industry.
Q: What should we pack beyond the obvious?
A: It depends on your itinerary, of course, but there are some items that people might not think about. I bring an extension cord and a power strip so I can charge up my electronic devices.
I also recommend bringing earplugs for sleeping because sometimes there are unique sounds associated with cruise ships and the usually gentle movements of the ship at sea.
Every day you will receive a cruise program of events and activities throughout the day, so bring a highlighter to mark the things you would like to do that day and carry your program with you around the ship so you don't miss that lecture, bingo or stage show.
Q: Can people tell if they are susceptible to motion sickness even before booking? What can we do about it once we're aboard?
A: I tell people not to worry about this because today's ships are much larger and they have the latest in stabilizers. However, some people are more sensitive to motion than others, so there are some excellent preventive measures cruisers can take. I would recommend non-drug-related options first, like using Sea-Bands that you can get at most drugstores. Sea-Bands are comfortable bands you place on your wrists, which help to equalize your sensitivity to motion with a pressure point on the wrist. Another great option is ginger gum, which may also be available in your drugstore.
Anyone who gets motion discomfort riding in a car might want to consider Dramamine or the patch you place behind your ears.
While onboard, avoid alcohol until you get your sea legs, because alcohol exaggerates the motion discomfort. There's two types of motion discomfort, the kind that is associated with your head, and the type that affects your stomach. If the discomfort is in your stomach, eat an apple and saltine crackers, which should calm the discomfort. If the problem is primarily in the head with dizziness, your body simply needs to acclimate to being at sea, so try to get some fresh air, and remain as close to the middle of the ship as possible.
While you're making your cruise reservations, ask your cruise specialist to find a stateroom that is mostly midship.
Q: If you're seated at a dining table with people you wind up disliking, is there a way to graciously be moved?
A: Many cruise ships today have multiple dining options and specialty restaurants, so you could eat in a different location every night. The best way to graciously change your seating is to talk with the restaurant manager and he or she will be happy to find a more suitable table for you.
Q: With a limited budget, how should we best choose our shore excursions?
A: That's me, a limited budget, so I am very careful to find excursions that fit within my budget. It's not too difficult because in each port on most itineraries there are numerous options.
I would avoid going out on your own in some ports and just "winging it," because I've heard stories from passengers who had bad and even dangerous experiences. The cruise lines have vetted the excursions and excursion companies carefully, so they know who they can trust their passengers with.
Many cruise lines let you book your excursions in advance, which I would highly recommend, because oftentimes the best or most popular excursions are sold out even on embarkation day.
Q: Is there a cruise out there you'd recommend -- something unique, special, a little under the radar?
A: I live in Minnesota, which is an unusual place to live for a cruise journalist, and I found a couple fascinating cruise experiences in Norway and Sweden that many Minnesotans of Scandinavian descent might find appealing.
In Sweden, the Göta Kanal Steamship Co. has incredible and immersive cruises in the heart of Sweden between Stockholm and Gothenburg. I must admit that I never knew there was such a fascinating system of locks, rivers and lakes that allow boaters to cross right through Sweden. Another Minnesota connection: Borton Overseas in Minneapolis is the U.S. outlet for the Göta Kanal company, and they book this trip for other travel agencies all across the U.S. and directly to the consumer, as well.
Another company that Minnesotans could appreciate is the Norwegian cruise line, Hurtigruten. I have been on both an Alaska cruise and a Norwegian coastal cruise and can say with great confidence that Hurtigruten offers special cruises from the top of Norway to Bergen and back. It's important, however, that you research this cruise experience carefully, because these are no ordinary cruise ships, they are "working ships" that have multiple roles as mail boats, and they are cargo and car ferries. There is very little entertainment onboard like you would expect from your typical cruise ships; rather Hurtigruten offers scenic voyages that have been appropriately labeled the "most beautiful voyages in the world."
Kerri Westenber, The Star Tribune