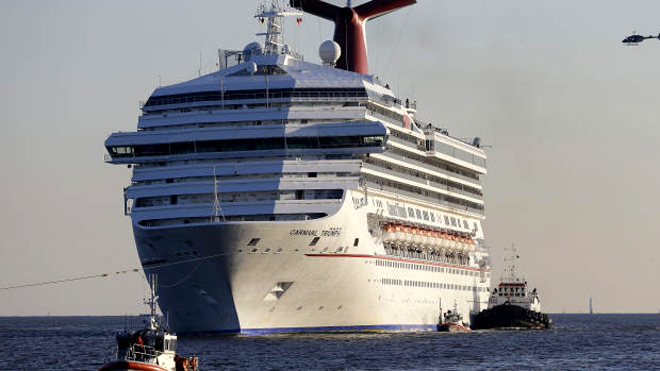 Even as passengers from the Carnival Dream prepare to fly home after their cruise was cut short due to a generator problem, a second Carnival ship, the Legend, has reported problems on board.
This is the third Carnival ship in less than two months to experience difficulties at sea. In February, the Carnival Triumph was crippled by an onboard fire in the Gulf of Mexico, leaving passengers stranded for days while the ship was towed back to land.
Disabled cruise ships and subsequent customer issues onboard have become such a problem for Carnival that the company announced this week it was conducting "a comprehensive review" of all of its 23 ships. The cruise line's president Gerry Cahill said the investigation will focus on the prevention, detection and suppression of fires, engine room redundancies, and procedures for back up emergency generators.
No doubt these recent incidents have many prospective cruisers questioning the safety and reliability of cruises these days.
Cruise ships are floating power plants fully dependent on their electricity generators for power to the propellers, toilets, plumbing, food storage, air conditioning, lights and more. A cruise ship with no power is but a large bobbing cork, dead in the water.
While situations like these are rare, there's actually nothing unusual about power problems on cruise ships. Most cases ships are able to restore power, or manage to complete the cruise with only partial power, but the worst case scenarios become a national media event.
Yet, for the passengers aboard, these problems don't just mean uncomfortable conditions stemming from loss of power, non-working toilets, and the crippling of other services, but could be life-threatening situations, as well.
What if this happens to you?
The first thing to remember is that crew members are trained for these scenarios, and are there to help passengers with issues from overall safety to basic creature comforts.
While the instinct may be to want to get off a disabled ship as soon as possible, that's not always the best option. There's a maritime maxim that says "the ship as the lifeboat." Cruise industry standard states that the safest way to return a large number of people to port is aboard a ship. Moving passengers from one ship to another on the open sea can be dangerous. Ultimately, it's the ship's captain who decides whether to disembark passengers at sea.
Does "dead in the water" mean disaster?
A ship that is "dead in the water" is a dangerous situation, but manageable. Cruise ship anchors are completely gravity controlled (no electric power needed).
Navigators have charts and would know when to drop anchor, so the chance that a drifting ship will beach is very small.
What about that list --the tendency of a ship to lean to one side? While disturbing, listing does not mean a ship is sinking. Have you ever seen a rubber ducky turn over? Ships are designed to have enough buoyancy to keep them afloat and upright. Like airplanes, cruise ship designers know all about the lightest and strongest materials. Most of the heavy steel weight is in the keel; a round slab of solid steel more the two football fields long. Modern ships are so stable they can stand upon their keels on land and not tip over.
In February, there were reports that Triumph listed, causing passengers to panic. The fact is, a "dead ship" is like a large sail at sea. The wind and currents will cause it to lean to one side, but it should never tip over. The only way a ship can sink is if it is "breached," meaning enough water somehow gets inside the hull to
overcome the natural buoyancy in the design.
What should passengers expect if their ship has to be towed?
In the event of a major problem on a ship, a ship may be towed to the nearest port. During that time, which could last up to several days, passengers should expect to receive essential needs and services from the crew while that happens. As a passenger, the only thing you can do is wait.
How people spend their time will dictate the overall experience. There was a big difference in the way the passengers acted during the Carnival Splendor incident versus the Carnival Triumph. On Splendor people remained calm, so the cruise line continued to give them free drinks. On Triumph, one afternoon of open bar only made the situation worse, leading to the decision not to make alcohol available at all.
Passenger rights on cruise ships
Despite a number of attempts to bolster cruise safety, even a law called the Cruise Safety Act of 2012, there is no specific provision for passenger rights. In fact, compensation for a cruise "gone bad" is almost always at the discretion of the cruise line.
Carnival Dream passengers, for example, will be given flights home via private charter, and will get a refund equivalent to three days of the voyage and 50 percent off a future cruise. The compensation for Carnival Triumph passengers, who were stranded for five days, included a full refund for the cruise and travel expenses and a credit good toward a future cruise, plus a check for $500.
When it comes to suing a cruise line, the problem is centuries-old maritime law which in most cases protects the merchant and not the passengers onboard. It's very hard to sue a cruise line. The cruise ticket limits liability for the merchant and mandates that any civil legal action be filed in the state where the line is incorporated, but first must go through arbitration.
How cruise ship maintenance affects you
Cruise ships are designed to run non-stop for years at a time and real maintenance usually means taking it out of service for weeks, so scheduled maintenance is always planned years in advance.
When a ship requires an unscheduled repair it's a logistical nightmare for the thousands of people who have cruises booked during those weeks. Cruise lines try to keep a ship running until its scheduled maintenance period. If it develops a problem in the meantime, they assess the options and shoot for the least inconvenience for the greatest number of people. A hobbled ship may miss a port, but it's a smaller inconvenience than cancelling entire cruises.
Picking the right ship
So how can you find out more about the condition of a cruise ship you're about to board?
One approach is to pick a new ship or one that has just been refurbished. Some of these include Disney Fantasy and Carnival Breeze. Also coming soon are Norwegian's Breakaway and Royal Caribbean's Royal Princess.
Also conduct some research of your own. When a ship completes an extensive scheduled maintenance the cruise line typically makes significant improvements, such as adding new decor, restaurants, entertainment and suites. While these improvements don't necessarily guarantee the mechanical functions of a ship, routine maintenance must be done in accordance with U.S. and international maritime laws, and are required to be inspected by U.S. Coast Guard–which enforces safety guidelines of cruise ships.
For more cruise news & articles go to http://www.cruisecrazies.com/index.html
By Paul Motter, cruisecrazies.com
Re-posted on CruiseCrazies.com - Cruise News, Articles, Forums, Packing List, Ship Tracker, and more