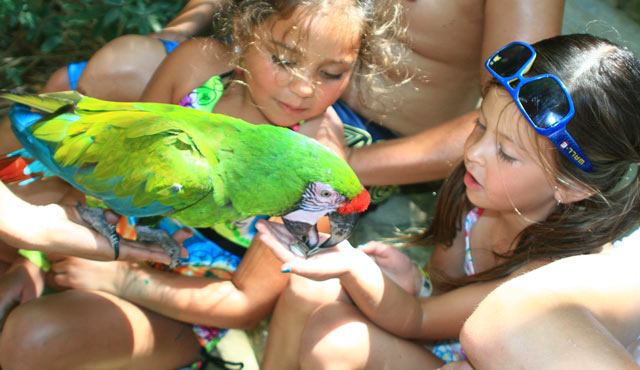 [While I don't advocate pulling your child out of school for a family vacation, a cruise can be a great way for kids to learn new skills and expose them to new experiences. Read more from USA Today!]
A cruise can be an educational experience for children, both in terms of exploring new destinations and learning stuff on the ship.
On shore, parents can immerse youngsters in local culture, wildlife and geographical wonders. Shipboard, kids may pick up a few nautical words (such port and starboard), try new kinds of food and socialize with people from other countries in addition to participating in organized activities in age-specific children's programs.
There's a reason some two million kids come aboard cruise ships each year, and it's not all about fun and games and waterslides.
Wildlife: Depending on your itinerary, you may spot dolphins, whales, fish, seals, sea lions and other marine species. Sea life can be fascinating to kids. Take older kids under the water on snorkeling treks to view all kinds of colorful fish and coral (an excursion from the beach is easy for beginners). Carnival Cruise Line recently re-named its kids program Camp Ocean to emphasize a marine learning aspect. In one activity, two- to five-year-olds might be encouraged to join together in a penguin colony, while nine- to 11-year-olds create a giant ocean mural.
Geography: Your family cruise vacation brings opportunity for kids to learn about the world's oceans. On Royal Caribbean's Adventure Ocean program, fun and games include sessions on how waves are formed. There is also time to learn about the land, both shipboard and at the various ports of call. Depending on the itinerary, there are glaciers, mountains, fjords, rainforest, waterfalls, beaches and more to explore. In Alaska, Princess Cruises has a National Park Service Junior Ranger Program that teaches kids about glaciers and wildlife. Youngsters can earn a Jr. Ranger badge. To enhance the learning process, involve your kids in the cruise planning process encouraging them pre-cruise to plot your course on a map and letting them have a say in what places you'll visit.
Languages: A cruise ship is a multicultural environment. Depending on your itinerary, your kids may make friends with youngsters from South America, Central America, Asia, Europe and elsewhere. Crew will also come from all over the world, and may be willing to teach your kids a few words in their native tongue. Announcements over the public address system may be in several languages. MSC Cruises and Costa Cruises enhance the cross-cultural learning aspect by teaching kids a few words of Italian in kids' programs.
Culture: Travel at its best takes you out of your comfort zone and gives you an enhanced world-view. As part of your cruise planning, find children's books about the region you'll be visiting to give your kids an introduction. Onshore, look for cultural activities such as visiting a museum, watching a dance performance, shopping at a market or trying new foods. While your kids may go gaga about the prospect of zipping down a waterslide, what they are likely to remember just as much about the cruise experience is that they visited a new place. Shipboard, encourage your kids to do any cultural activities offered by the youth program, such as cooking classes and craft projects. Kids on Disney Cruise Line's Disney Magic this summer, for instance, will have opportunities for Scandinavian immersion in addition to mingling with characters from the mega hit "Frozen."
Etiquette: Beyond the fact you are taking your kids to sea and to new places is the fact they will be eating in a dining room, ordering their meals from waiters (children's menus available), talking with adults and generally expected to behave. Cruise ships are a great place for such lessons as where your napkin goes, the proper use of tableware, saying "please" and "thank you," and being courteous in a social setting.
Courtesy of USA Today (Fran Golden, "5 Reasons a Cruise is Educational for Kids")
Re-posted on CruiseCrazies.com - Cruise News, Articles, Forums, Packing List, Ship Tracker, and more.
Please visit CruiseCrazies.com for more cruise news & articles.
Featured photo credit: Princess Cruises