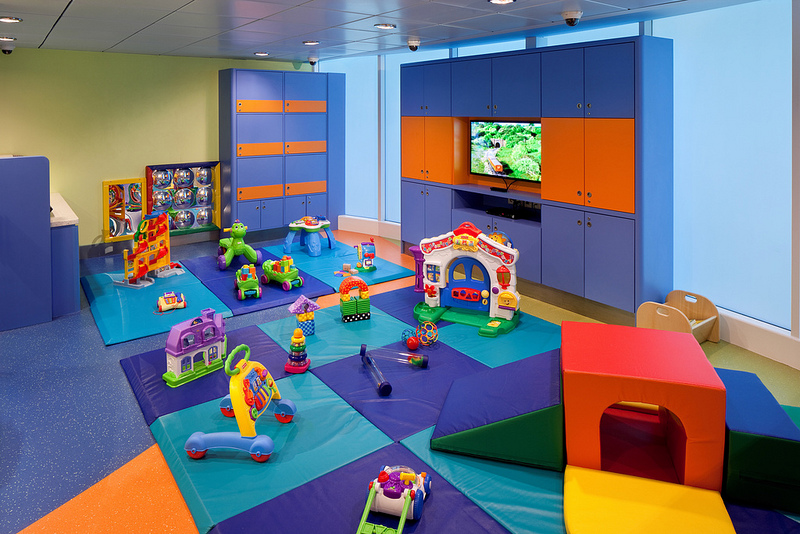 There is a reason cruising is so popular with families – high quality, supervised children's programming, fun activities parents and kids can do together and, increasingly, sports such as ice skating, zip lining and bowling that even a decade ago would have seemed unthinkable. But one area that has historically been challenging is the lack of facilities for parents of infants and toddlers – arguably the group that could most use a break from parenting duties.
The good news is that cruise lines are getting the message and increasingly welcoming families with very young children, even those who aren't potty trained. Be aware that swim diapers are usually frowned upon, and don't expect supervised, drop-off programs on most ships for children under age three. Dedicated play spaces offering organized activities that tiny cruisers can enjoy with their families are becoming more available, however, and group babysitting at night – usually for a fee – is almost standard. That said, each line has its own personality and features; the trick is to find the right one for you and your family.
Carnival Cruise Lines
Small frys ages 2 to 5 get the red carpet treatment at Camp Carnival, even if they aren't potty trained. Staff will change diapers on toddlers 3 and younger if parents supply the provisions, but tots in swim diapers can't use any of the water play areas onboard. Nonstop fun at Camp Carnival includes games as well as arts and crafts. Parents who want a late night out can take advantage of the supervised Night Owls program for ages 2-11, which operates from 10 p.m.-3 a.m. for a fee. There are games, activities and parties, although keep in mind that the children will be grouped together.
Fleetwide, kids returning to their staterooms are greeted with towel animals fashioned by cabin stewards at turn-down. On the new Carnival Breeze, families can opt for ocean view, family staterooms big enough to sleep five, and bath time is a snap with two bathrooms, one with a junior tub. Cribs, which are available for free, should be requested at the time of booking, and chairs and booster seats are available for use on a complimentary basis in the dining room. Strollers are available for rent. Infants/toddlers under 3 are not only welcome on some shore excursions, but can participate for free if they sit in their parent's lap during transport.
Who can sail: Overall, children 6-months and older are welcome on most itineraries; 12- months on longer voyages, such as transatlantic, Hawaii and South American sailings.
Cunard Cruises
Yes, this is a premium cruise line and maybe not the first company you would think of for infants and toddlers, but surprisingly the Queen Mary 2, the Queen Victoria and the Queen Elizabeth welcome children as young as 6-months on many sailings. Even better, onboard nurseries are staffed by nannies who will change diapers if parents sign a consent form, or parents can request a pager to be on call if they are needed.
Supervised activities for kids 2 to 7 take place at the Play Zone, which features all manner of fun, including arts and crafts, reading, songs, scavenger hunts and outdoor play, with themes that range from the Wild Wild West to Under the Sea. Activities change every 30 to 60 minutes, and children younger than 2 can also participate, as long as Mom or Dad is present. The play area turns into a night nursery from 8 p.m. to 11 p.m., although there are soft toys and games for youngsters who are not sleepy.
All children's programs are complimentary, including in the evenings. Children's Afternoon Tea is offered on all ships, serving child-friendly hot and cold meals, and baby food is available on request. Cots are available on request, as are high chairs in all restaurants. Keep in mind that the line limits the number of children onboard specific sailings.
Who can sail: Most Cunard sailings welcome infants as young as 6-months old, but on longer itineraries, such as transatlantic crossings and world voyages, passengers must be at least one-year-old.
Disney Cruise Line
As you might expect, Disney has been the innovator for the under-3 market from the outset by offering nursery services, their trademark bath and a half – what parent likes trying to bathe infants in the sink or, worse, the shower? – and larger-than-average, family-friendly staterooms. Tots ages 3-months to 3 years are cared for and entertained with age-appropriate games and toys in the Small World Nursery on the Magic, Dream and Fantasy and in Flounder's Reef Nursery on the Wonder. In addition, the nurseries operate on port days, as well as at sea, so that parents can opt to go ashore on their own.
Because of the number of children onboard a typical Disney sailing, the number of hours parents can prebook the nursery is limited, but once onboard, parents can extend their nursery reservation depending on availability. Parents can preorder baby products online, such as diapers and formula, to be delivered to their staterooms, and cribs and strollers are available upon request. There is no charge for these, but guests are asked to place a security deposit when checking them out. Swim diapers are not permitted in the pools, but the ships do offer water play for little ones featuring soft play surfaces and spray zones.
Who can sail: Infants 12-weeks old and up are welcome onboard.
Norwegian Cruise Line
Norwegian has widened its net to include younger children with the recent roll out of a new Guppies program, designed for children 6 months to 3 years. Guppies have a dedicated play space where they, in the company of at least one parent, can get busy with Wee Can Too art projects using organic, vegetable-based products; baby Rhyme Time, featuring storytellers and puppets; and Motion in the Ocean mini-workouts for parents and babies.
Diapers are not allowed in any of the pools onboard, and Norwegian Youth Counselors are not able to change diapers or pull-ups. Parents are given a beeper or handy phone to alert them when their child needs a diaper change. Be aware that one parent must stay onboard when the ship is ashore for diaper duty if the child is enrolled in the children's program during that time. Diapers are not available onboard, so parents should plan to bring their own. On the plus side, pack and plays and strollers are available, but need to be requested prior to the sailing. As with most cruise lines, in-room babysitting is not offered, but group sitting services are available in the evenings for a fee. The newer ships, including the Epic and the Breakaway, offer family-friendly staterooms adjacent to the children's club area.
Who can sail: Infants must be at least 6-months old to sail.
Royal Caribbean
Royal Caribbean has been ahead of the curve with regard to its children's programs for years, so we are not surprised to see the wealth of offerings for its youngest cruisers. The Royal Babies Nursery, for infants ages 6 to 18 months, and the Royal Tots Nursery, for ages 18 to 36 months, on select ships is a case in point. Unlike on some lines, parents can drop their infants and toddlers off at the nursery for some activities, knowing that the staff-to-child ratio is carefully monitored, or parents can stay and play with their youngsters in a fun, creative environment with Fisher Price developmental toys created especially for Royal Caribbean. The line also offers Crayola Beginnings workshops with art supplies and activities for families to enjoy together for a fee. Families can preorder organic baby food and diapers for onboard delivery via a Babies 2 Go program.
Royal Caribbean is one of the few lines to offer in-stateroom babysitting for a fee for kids at least 12-months old, or parents can opt for group sitting services. In addition, the newer ships, including the Quantum of the Seas, to begin sailing in 2014, will offer family connecting staterooms, which can combine various categories, such as mixing a balcony or junior suite with a studio, to accommodate various extended family configurations.
Who can sail: Infants must be at least 6-months-old in order to sail.
By Felicity Long - USA Today ("Best Lines for Children Under 3)
For more cruise news & articles go to http://www.cruisecra....com/index.html
Re-posted on CruiseCrazies.com - Cruise News, Articles, Forums, Packing List, Ship Tracker, and more
Photo credit: Royal Caribbean International