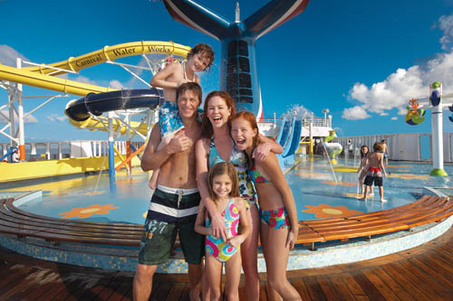 Are you and your family interested in taking a vacation this year? If so, you are not alone. Each year a large percentage of American families make the decision to have a summer vacation. Popular vacation destinations include amusement parks, beaches, and campgrounds. But, did you know that you can also have your next family vacation aboard a cruise ship?
Cruise ships have been successfully operating for a number of years now. Many families enjoy summer vacations aboard a cruise ship, but even more don't consider it as a possibility. If you are looking for a different way to spend quality time with your family, you are urged to at least considering taking a family cruise.
When it comes to vacations aboard a cruise ship, there are many individuals who automatically assume that cruise ships are not "family friendly." If you believe this popular misconception, you could be missing out on one of the greatest opportunities of your life. There are a large number of cruise lines, each offering different cruises. With all of the cruise ships available, you are sure to find at least one that can offer your family fun on the water.
Just a few of the many family activities found aboard a cruise ship include dinners, movies, and plays. Additional activities may be available. The family activities found upon a cruise ship often depends on the cruise ship line. In addition to activities for the whole family, a large number of cruise ships have activities that are designed specifically for children. While your children are participating at these fun, but supervised activities, you could be enjoying a private moment with your spouse.
If you are interested in learning more about the family fun activities found aboard a cruise ship, compare the offerings which will vary between each cruise line. In your search, you will likely see that there are a number of cruise ships designed specifically for those with children. You do not have to limit yourself just to family cruises, but you may find them most appropriate.
To find a family fun cruise without doing all of the legwork yourself, you may want to speak with a travel agent.
Whether you book your own family cruise vacation or you use the professional assistance of a travel agent, you're be embarking upon a memorable family vacation. In fact, so many families enjoy the family vacation they took aboard a cruise ship that it often turns into an annual (or even more frequent) pattern.