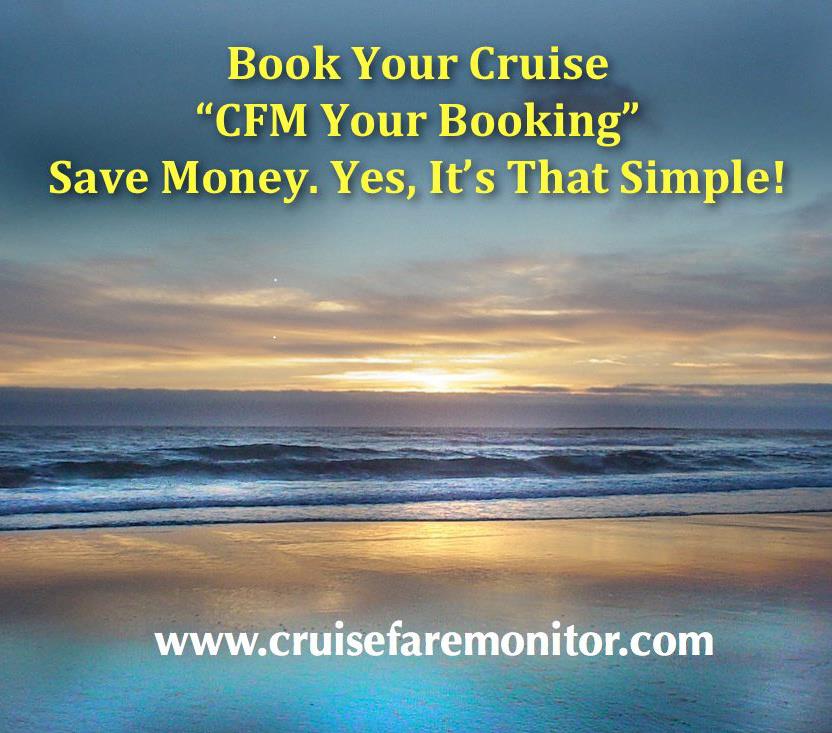 WESTON, Fla. -- cruisefaremonitor.com has just opened its doors to the public. Using state-of-the-art computer technology, combined with instant e-mails and phone alerts, they make available an estimated $3.5 billion in annual cost savings to cruise line customers.
There is a policy in the cruise industry seldom used effectively by travelers to save money. If the price of a cruise drops after deposit is made, cruise passengers are often entitled to rebook at the lower rate without penalty. Travelers aware of this policy may check the cost of their cruise periodically to see if a price drop has occurred, but this tactic is time consuming and requires luck as price decreases are often temporary and may rise again.
Cruise lines do not inform clients that the price of a previously booked stateroom has dropped. As well, travel agents have a financial disincentive to inform clients when a drop in price occurs – their commission decreases each time they rebook at a lower fare. Travel websites have no mechanism for letting clients know that the cost of a cruise booked through them has declined. Until now, cruise passengers had no fast and reliable way of detecting a drop in their cruise fare.
The fact is, cruise lines frequently lower fares multiple times between a passenger's booking and the final payment date. Often, these decreases occur multiple times in a single day to fill undersold sailings, attract people from certain parts of the country, pull in previous cruise passengers or, to target a certain demographic – such as those aged 55 and over.
This supply-and-demand change in prices offers a unique opportunity for cruise passengers to save money – if only they had access to quick and reliable information on daily rate changes.
Enter cruisefaremonitor.com (CFM) – the brainchild of a University professor and his travel agent. Together, they created and designed a fully automated ingenious method for cruise passengers to quickly and reliably monitor changes in cruise fares – at a surprisingly nominal cost.
Here's how it works. Clients book their cruise, go to the CFM website and key in their cruise line, ship, sail date, stateroom category, number of people per stateroom, state of residence, whether they're age 55+ and if they are a past customer with the cruise line. It takes less than a minute to do this. If CFM is monitoring that cruise and stateroom, CFM will provide unlimited e-mail or phone text alerts up until final payment date or until the ship sails.
The unique feature of CFM is that cruise passengers will typically know about a drop in the price of their cruise before anyone else – enabling them to rebook at the lower rate before it disappears.
It's even possible for savvy travelers who have yet to book a cruise to sign up with CFM to identify a set price or upper limit they're willing to pay for a specified stateroom category on a given sailing, and let CFM do the daily legwork to determine if the price drops to their limit. If it does, clients are alerted immediately.
CFM's fees are nominal, with two options: The first is a one-time fixed, prepaid fee, ranging from $10-$15 dollars. Clients may optionally choose a fee that requires payment only if the fare actually drops and clients save money. Cruise lines now being monitored include Azamara, Carnival, Celebrity, MSC, Norwegian, Oceania, and Royal Caribbean – a list that may expand in the future. Right now CFM is only available to U.S. citizens.
cruisefaremonitor.com welcomes travelers and travel agents to use their state-of-the-art technology to save money on cruising. Cruise travelers should first book their cruise, then "CFM their cruise vacation."
___________________________________________________________
About cruisefaremonitor.com (CFM)
CFM is based in Weston, Florida. For more information, please visit cruisefaremonitor.com.
More questions? E-mail admin@cruisefaremonitor.com
Follow CFM alerts on twitter @cruisefaremon
Find us on Facebook: cruisefaremonitor