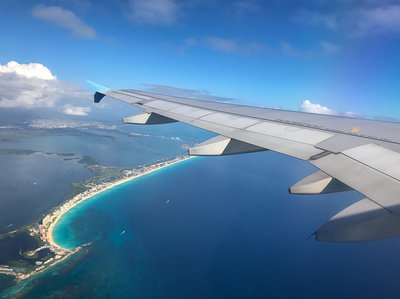 How to find cheap flights for your cruise
Cruising is more popular than ever, and the appeal is obvious: an all-inclusive vacation on a floating resort hotel with great ocean views.
According to the latest figures from trade publication Cruise Industry News, the three busiest cruise ports in the world are in Florida and the absolute busiest, Miami, welcomed 4.8 million passengers in 2016. Rounding out the top 10 are Cozumel, Shanghai, Barcelona, Civitavecchia (Italy), Nassau, the Canary Islands and the Balearic Islands of Spain — but let's take a closer look at the top-ranked U.S. ports and the best ways to get to them.
No.1: Port Miami. Fly to Miami International (MIA), about 3 miles away.
No. 2: Port Canaveral. Fly to Orlando International (MCO), about 45 miles away.
No. 3: Port Everglades. Fly to Fort Lauderdale-Hollywood International (FLL), about 6 miles away.
No. 12: Port of Galveston. Fly to one of two Houston airports: William P. Hobby (HOU), about 40 miles away, or George Bush Intercontinental (IAH), about 72 miles away.
No. 21: Port of New Orleans. Fly to Louis Armstrong New Orleans International (MSY), about 16 miles away.
Once you choose a cruise, start planning travel to the port:
• Give yourself plenty of time. If the ship departs at 9 a.m., don't plan to fly in at 7 a.m., even if the port is only a couple of miles from the airport. Flights get delayed all the time (storms, mechanical issues) and if you're not there when the ship leaves port you'll be out of luck and, given that cruises are non-refundable, a lot of money. Consider arriving the day before the cruise departs, or even a few days before and make the port city part of a longer vacation. There are plenty of attractions for all ages in southern Florida, and other port cities, too.
• Compare nearby airports. Before you automatically book a flight to the port's closest airport, check prices to that one plus nearby airports. For example, if your ship departs the Port of Miami, look at fares to Miami but also check Fort Lauderdale, which is only 25 miles farther away and might be significantly cheaper. These round-trip fares — for weekday travel in May — were found late last week on Farecompare.com:
Chicago-Fort Lauderdale, $89
Chicago-Miami, $151
• Fly into one city, depart from another city. Before you book flights, be sure to check your cruise itinerary carefully; the ship may leave from one port but end up in another. This is not uncommon for cruises and here's where you need a two-pronged strategy to find the best fares.
First, find and compare fares using a "multi-city" itinerary: Depart city A, arrive city B; then depart city C, arrive city A.
Then, find and compare fares for two one-way trips: Trip No. 1 - depart city A and arrive city B; trip No. 2 - depart city C and arrive city A.
Take a look at these May fares for a passenger in Los Angeles who will take an Alaska cruise. The ship departs from the Anchorage area and ends its voyage in Vancouver.
Two separate one-way flights, found on a comparison search site, for travel in May:
Los Angeles-Anchorage. $199
Vancouver-Los Angeles. $112
Total: $311
Multi-city itineraries found on airline websites:
Los Angeles-Anchorage, Vancouver-Los Angeles.
Total: From $366 to $900+
Note that separate one-way flights are not always cheaper; you always have to compare.
• Don't forget transportation between airport and port. Some cruise lines include an airport shuttle between the terminal and the ship in the overall package price; check to see if your line offers this or gives any options for getting from plane to port. If not, see if the airport offers port shuttles or consider a taxi, Uber or Lyft. If you are entitled to a free shuttle ride, be sure you nail down where to wait for it (and how long you'll have to wait); some airport websites like Miami's list shuttle pick-up locations for various cruise lines by terminal.
Happy cruising!
By Rick Seaney, Farecompare.com
Re-posted on CruiseCrazies.com - Cruise News, Articles, Forums, Packing List, Ship Tracker, and more
For more cruise news and articles go to https://www.cruisecrazies.com
Edited by Jason