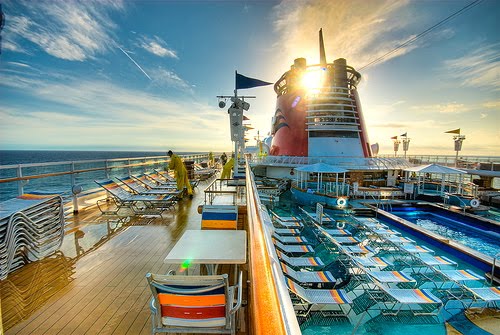 So, congratulations are in order. You're finally going on that long-awaited cruise. But before you head for the high seas, you might want the inside scoop on some of the ins and outs of the cruising world. Here are some basics that every first time cruiser should know before stepping onto that gangplank.
Investigate the cruise line. You never know if the company that Aunt Mable chose last year discreetly filed for bankruptcy, or was written up for repeated outbreaks of the Norwalk Virus. A quick Google search will give you a wealth of information, but move past the results from PR companies and travel agents, and see what individuals have to say. Do you research on CruiseCrazies where previous passengers can rate their experiences, good and bad.
Plan your packing. Each ship has its own dress code and will send you information well before your trip so you can plan accordingly. Depending on the cruise, this dress code may be more of a flexible guideline than strict rules. Call your travel agent or the cruise line directly if you have questions. Don't get too stressed out by the idea of "formal" dining, however if you're not in the mood to dress up, you can typically opt for a less-formal dining option on board.
Put some thought into your carry-on bag. Most ships have hundreds of bags to get on board, sort through and deliver to each cabin. This process can take several hours, sometimes until after dinner the first night. Be prepared. Pack your bathing suits, sunscreen and anything that you may need throughout the day. If you have children, plan on including a change of clothes and their special toy or blanket.
Remember that all-inclusive does not mean free. You are bound to have extra charges while on-board, even with an all-inclusive package. Alcoholic beverages, gift shop purchases, shore excursions, spa services and internet charges, all have additional fees. Be sure to keep track of how many times you swipe that room key or you may have a surprise waiting for you at the end of your trip.
Tips on tipping. Another additional fee to budget for is the tip. The general rule of thumb is $10, per person, per day. So, a couple with two teenagers on a seven-day cruise could expect to leave $280 in tips. Each cruise line has their own policy that you will be made aware of, from small envelopes for inserting cash to having gratuity automatically added to your tab.
Hopefully, these tips will give you some guidance so that you can cruise with confidence, like a pro.