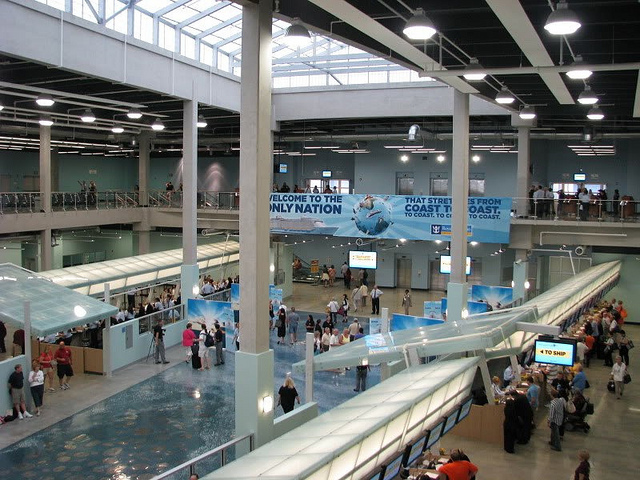 Knowing that standing in line is not a pleasant way to start your vacation, cruise lines have been working to speed up the boarding process.
Royal Caribbean serves up surprisingly swift boarding on its 5,400-passenger Oasis of the Seas and Allure of the Seas, the largest ships in the world. Princess is using nifty handheld devices to check-in passengers on its new 3,650-passenger Royal Princess.
Carnival passengers flying into Miami can check in right at the airport, get their cruise keycard and use special security lines at the ports in Miami and Fort Lauderdale.
A fairly new option is paying for propriety boarding. Carnival, for one, charges an extra $49.95 per person for its Faster to the Fun program that also comes with other perks.
Depending a lot on your attitude, timing and luck, getting onboard a cruise ship with thousands of other passengers can be an easy experience or a hassle. Some strategizing is advised.
Experienced cruisers tend to use one of two strategies to avoid the rush; seasoned passengers either arrive before noon or after 2 p.m.
The before noon crowd is determined to be first in line to get on the ship. They want first dibs on everything from the buffet to spa and specialty restaurant reservations, if they haven't made them in advance.
The downside to arriving early: The ship may not be ready for boarding and once onboard, you must schlep around your carry-on luggage, as your cabin won't typically be ready until around 1:30 p.m.
Those arriving after 2 p.m. stand a better chance of breezing onboard. They may miss the free lunch, but the trade-off is less stress.
Personally, I lean towards the later group. I'm a classic Type A and hate lines.
If you do opt to arrive later, keep in mind the ship is required to deliver a final manifest before the cruise. That means that boarding at least 90 minutes before sailing is mandatory.
Remember, you can speed the process by filling out and printing the online boarding forms.
By Fran Golden, Special to USA TODAY
For more cruise news & articles go to http://www.cruisecrazies.com/index.html
Re-posted on CruiseCrazies.com - Cruise News, Articles, Forums, Packing List, Ship Tracker, and more