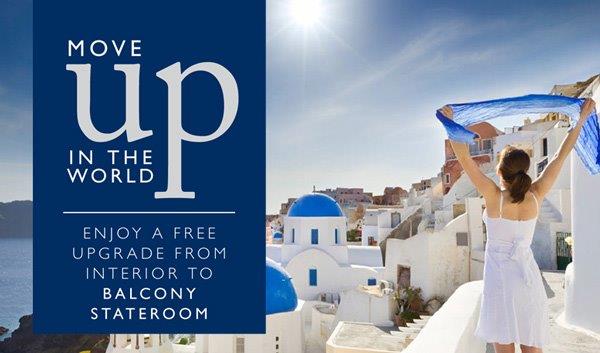 No doubt you have heard of her – the "Upgrade Fairy". With no particular rhyme or reason, she flitters about waving her wand, granting stateroom upgrades to the fortunate. Some people spend their whole cruising lives wishing for an upgrade and never get one. Others book their first and only cruise and get lucky. Where, when and upon whom the upgrade fairy will sprinkle her magic dust is a mystery.
While a move up is really grand, it's a myth that the upgraded cabin will always be better than the one you paid for. In all actuality, the difference between some cabin categories is so insignificant that all an upgrade may mean is that you went from one cabin to an identical cabin on a different deck – and may even be in an undesirable location.
Is there a way to increase your chance of scoring a complimentary upgrade? Sure. Hope, pray and wish for luck. With that said, however, you may have an edge if you're a loyalty client, sail during seasons of low demand, book a guarantee cabin, or reserve early. Most likely, though, it's purely luck of the draw, and as far as that goes, you stand a better chance of winning the lottery. Will it help if you or your agent were to ask the cruise line directly? It certainly couldn't hurt, but don't get your hopes up.
If the upgrade fairy passes you by, don't despair. There are other ways of possibly landing a better cabin.
Guaranteed Cabins. A guaranteed booking is a reservation whereby you pay for a cabin in a particular category and the cabin then assigned by the cruise line. Sometimes, but not always, the cruise line may assign you an upgraded cabin. Unfortunately some misguided travel agents tell their clients with high certainty that they will be upgraded by booking a guarantee. If they do, find another agent. The only thing that is guaranteed is a cabin in at least the category you booked, and if you are lucky, maybe you'll find yourself in a higher one.
Promotional Upgrades. With this type of upgrade, the cruise line is offering a promotion booking you into a cabin at the same price as a category or two below it. These are big selling tools for cruise lines and agents alike. Usually, this type of upgrade means a move from the cabins located very forward or very aft to a cabin closer to mid-ship. Sometimes it may mean a move from mid-ship on a low deck to a forward cabin on a higher deck. A deck plan will help in determining if it's a good upgrade.
Paid Upgrades. When a ship isn't selling quite as well as hoped, the cruise line will offer existing customers an upgrade for a fee. Paid upgrades are also routinely offered at the time of initial booking. Whether offered now or later, these can sometimes be good deals, and other times not so much. Again, it's important to have a deck plan handy to compare the upgraded cabin and its location with the one you already have to determine whether it's worth the price they're asking.
Don't like surprises? Book the best cabin you can afford. Don't risk ruining your vacation by buying an inexpensive cabin and hoping for an upgrade. Book the cabin you would like to have, and if you get upgraded, you are that much ahead. If you don't, you'll still be comfortable.
Like that cabin you hand-picked? Ask to have it marked "no upgrade". If you don't, you may lose it.
By Janice Neves, CruiseCrazies Contributor
For more cruise news & articles go to http://www.cruisecra....com/index.html