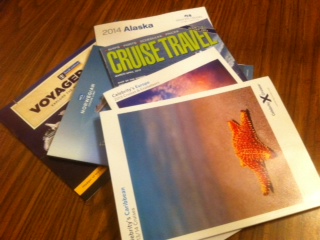 There is much more to picking a cruise than simply choosing the one with the lowest price tag or the best deal. With a daunting number of cruise ships and itineraries available, it takes a little bit of legwork to sort through the myriad of options. Cruise lines come in the small, compact variety with just a few hundred passengers, ranging to the gargantuan 5,000 passenger super mega liners. Here is a foolproof way to find the cruise that's right for you.
Research, Research, Research!
Your friends and neighbors no doubt have related their fabulous cruise vacation experiences. However, it's important to realize that what was great for them may not work as well for you. A web search of cruise material will lead you to a cyberspace explosion of information relating to cruise vacations. In fact, it can be an overwhelming chore, especially as a first-time cruiser, sorting through a plethora of ship reviews, advice and facts, leaving you dazed and confused.
A better place to begin is the bookstore or your local library. Pick up a good cruise guide – either the old-fashioned paper variety or the electronic reader kind. If you know where you want to go on your cruise, even better. Look for a cruise guide specific to your dream destination. Study up on the cruise lines, the ships, and all the other fine points that make up a cruise vacation.
This is also where a good travel agent comes in handy – one that specializes in cruises. However, before seeking out an agent, ask yourself a few questions about what you are looking for in a cruise. It will make your agent's task of finding a cruise suited for you so much easier.
Destination
Where do you want your ship to take you? Are you a tropical/beach kind of person? Then take a look at the Caribbean. Would you prefer a cooler climate with wildlife and nature? Alaska is the place. Do you desire to be surrounded by ancient ruins and history? Perhaps Europe or Mayan ruins in the Yucatan will fill the need. Perhaps it's as simple as a place high on your bucket list. Decide what's most important and create a plan to get there.
Embarkation Ports
This may not seem like a deciding factor on which cruise to choose, but there are people in the world who simply prefer not to fly to meet their ship. If this describes you, then you would require a port within a reasonable drive. This will limit your destination choices to whatever cruises are available from your port. If, on the other hand, there are no obstacles between you and the ship, then the sky's the limit – within your budget, of course.
Budget
Once you have chosen your destination, the first thing you need to do is ask yourself – how much can I afford? Time of year and length of your cruise are important factors to consider. Obviously, the longer the cruise, the pricier it becomes. If you are flying to your ship, you will need to factor in airfare. If you are planning on spending a day in the port city before or after your cruise, you'll need a hotel, or a pre-booked hotel/air/transfer package with your cruise line. You will also need to include in your budget an average of $12/per day, per person in gratuities. Also consider the cost of travel insurance. While some people consider trip insurance to be an option, I consider it a necessity and always factor it into the basic cruise expenses. Everything over and above these basic charges will be optional "extras", i.e. shore excursions, spa appointments, specialty restaurants (alternatives to the standard dining included with your fare), alcoholic beverages, soft drinks and onboard internet service, just to name a few. These options can really add up, so become familiar with them and choose which ones you can do without.
When to Go
If budget is a huge factor in your choice of vacation, be forewarned that the most expensive time to cruise most anywhere is during spring and winter school/college breaks, the weeks encompassing Christmas and New Year's, and the mid-summer months of July and August. Since kids and families are in abundance during these periods, consider an alternate time of year to cruise – unless you're like me and can only cruise when the kids and teachers cruise.
Alternatively, you can save money by cruising during a destination's "shoulder months" or off-season period. Alaska, for example, is warmer, more popular - and most expensive - in August. Cruise the "Last American Frontier" in May or October, and you're likely to save a bundle. Just be sure to bring your warm layers!
Likewise, Caribbean cruises come with huge discounts during Atlantic hurricane season – September and October. You risk the possibility of a change in your itinerary or disruption in your travel, but it's a risk many are willing to take to save money.
Ports vs. Sea Days
Itineraries are as important as the ship when choosing a cruise. Do you prefer relaxing days at sea, or is your primary goal to see as many sites as possible in your destination? A 7-day itinerary featuring every day in a new port is not going to feel as relaxing as a similar itinerary with two or three days at sea to break up the hectic pace. Decide which is more important – the destination or the ship – or a combination of both.
Your Personality
Although cruise lines at a glance can appear similar, they each have their own style. To further add to the confusion, each line has ships in varying shapes and sizes. Carnival caters to the budget-conscious, fun-loving crowd. Royal Caribbean attracts families and kids with its onboard action-packed activity. Celebrity and Princess cater to passengers with more refined tastes, while Holland America attracts a 50-plus crowd, who prefer HAL's mid-size ships.
Are you bringing the kids?
Consider a mega-liner with a good kids' program and plenty of onboard activity to keep them happy. They will most likely be bored out of their skulls on, say, Holland America.
Do you dislike noise, crowds and long lines?
If so, then go for the small ship experience. For example, while the mega ships carry upwards of 5,000 passengers, the small ships of Princess hold an intimate 680. In addition to a quieter cruise experience, it will take less effort to get from "here" to "there" on a small to mid-size ship – a big plus for the elderly, disabled or just plain inactive. Finally, do you know the best part about a small ship? It's the feeling of being on a cruise ship – and not a huge floating city. Keep in mind, though - the smaller the ship, the fewer venues and entertainment options available on board.
How important is nightly entertainment to you?
The quality of shows and musical performances varies from ship to ship. Generally speaking, Royal Caribbean, Norwegian and Disney receive the highest grades for high caliber entertainment, with well-known names and Broadway-style shows. Again, the bigger the ship, the bigger the entertainment, especially within the three lines I mention.
Are you a foodie?
Like entertainment, food can vary across cruise lines, ranging from fabulous dining cuisine to mediocre buffets. In my experience, with the large number of dining choices on ships today, I've never had trouble in finding something pleasing to both my palate and appetite. With that said, premium lines get the highest marks for food quality and presentation. Oceania, Cunard and Crystal, for example, have been known to bring in big-name chefs. Even across the mainstream lines, the newest and larger ships are introducing new, high-quality eateries, albeit with an added surcharge.
Do you like to dress up?
Then you will likely feel significantly out of place on Norwegian Cruise Lines, where "freestyle" cruising and informality are the norm. However, you will still have plenty of dressed-up company on at least two "formal" nights of the week on most other cruise lines. As for the rest of the nights, "dressy-casual" is still the code, the meaning of which varies widely among passengers.
Do you like the traditional way of cruise ship dining – i.e. same time, same table and same dining companions each evening? This concept has not been totally lost in the trend to casual. While "any time" dining has become more popular over recent years, with passengers preferring to eat wherever and whenever the mood strikes, most cruise lines have retained the traditional option for those who prefer it – and there are a great deal that do.
Are you prone to seasickness?
These days, ships are so well stabilized, and in some cases so big, that you don't even realize you are on the ocean. To improve your chances of a smooth sailing, choose a large ship and a cabin positioned low and center. Still, it doesn't hurt to be prepared with your favorite motion sickness remedy just the same.
Congratulations – you're now ready to book your cruise!
Armed with your newfound knowledge, and now knowing what you want in a cruise, you are ready to make an informed decision, knowing that you will book the best cruise with YOU in mind!
By Jan Neves, CruiseCrazies Contributor
For more cruise news & articles go to http://www.cruisecra....com/index.html