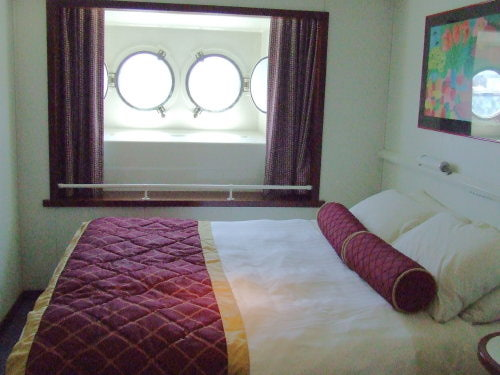 One of the most important decisions a person will make when planning a cruise is choosing a cabin. The importance of cabin location and knowing what is below, above and beside you on board a ship can't be understated. To avoid unpleasant and unwelcome noises, smells or distractions, consult a deck plan for assistance in selecting a cabin in a desirable location.
While you're studying your deck plan, take notice of these prime areas of the ship to avoid:
Stairs or Elevators. People tend to congregate around the elevators and, of course, happy and excited people laugh and talk loudly. If you're the type that likes to nap in the middle of the day or turn in early at night, avoid cabins near busy elevators.
The Laundry Room. Yes, there are Laundromats on board - and people who wash clothes while on vacation. I am happy to say that I'm not one of them. If you've got your eye on an inside cabin, be certain it's not adjacent to the laundry area. Otherwise, you could be rocking yourself to sleep to the sound of the spin cycle.
The Pool Deck. People love to drag their chairs from one end of the pool deck to the other. Why? To annoy the people in the cabins below, of course! Take a look at the deck plans and situate yourself below a quieter area.
Night Club. The party animals come out at night, and they're not going to care if you're up in your cabin trying to get 30 winks because you want to get up early in the morning to see the sunrise. Avoid a cabin above or below any room with loud music and a dance floor.
Mechanical Equipment. The cranking, knocking, banging and screeching of the ship's equipment doing its thing when docking can leave you feeling like you're on a haunted ship – not to mention leaving you tired from lack of sleep. Avoid areas of the ship where this is most likely to take place – low and forward.
Public Areas. This includes dining rooms, buffets, atrium, show lounges and the theatre – any place where lots of people congregate an make a lot of noise. If you must choose a cabin above or below a public area, pick an area that's known for quiet activity – the library or the internet café.
Fitness Room/Jogging Track. Unless you enjoy the pounding of running feet early in the morning while you're trying to sleep the day away, avoid situating yourself below the fitness center. Beneath the neighboring spa would be a better choice.
Kid Centers. While kids will be seen and heard anywhere on board, you can minimize the intrusion if you're looking for quiet by staying clear of the places where they hang out the most.
Cruisers who book at the last minute may not have much say about where they lay their heads. But for those folks (like me) who prefer to book well in advance while there are still lots of cabin options, then a deck plan can be your best friend.
By Janice Neves, CruiseCrazies Contributor
Re-posted on CruiseCrazies.com - Cruise News, Articles, Forums, Packing List, Ship Tracker, and more.
Please visit CruiseCrazies.com for more cruise news & articles.