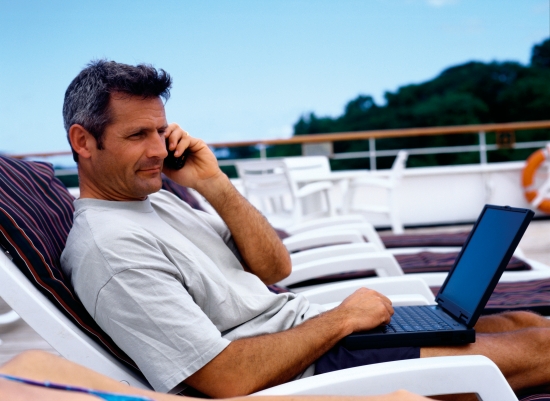 Who doesn't have a smartphone or tablet these days? While you may still encounter folks with a simple flip phone - or (gasp!) no cell phone at all - more and more people own a smartphone, a tablet, or both. With all the unlimited data and talk plans and free WiFi hotspots now at our disposal, we scarcely think about the time we spend conversing, downloading and web browsing these days. It has become second nature to turn to our electronic devices for both business and pleasure - to call, text, message, share, blog, tweet, snap and upload photos, watch videos, browse the web without even blinking.
Try all this on a cruise ship at sea, and you'll be in for a severe case of "cell shock" when your next phone bill arrives. Charges for call roaming, data roaming, streaming music and videos or downloading an app can rise into the stratosphere. Traveling with digital devices requires special close attention, and this is especially true on a cruise ship.
Wouldn't it be great to escape totally unplugged – to leave all the gadgets behind and disconnect from work, social and family obligations for just a short time and truly relax! Difficult but not impossible. However, if the thought of traveling incommunicado brings on a severe panic attack, don't despair. There are ways you can minimize your phone and data expense when you travel.
The following are generic suggestions that may or may not apply to your phone or tablet. Before traveling, always check with your service provider before making any modifications to your device or service.
Sign up with your carrier's international roaming voice and data plan. Before leaving home, check with your provider for their cruise ship terms and ask about discounted international voice and data plans. Note, however, that the discounted international plans don't apply while on a cruise ship at sea. The cruise ship network is turned on once the ship is at sea and doesn't turn off until the ship is close to land. When calling from your phone at sea, or whenever the display reads "Cellular at Sea", pricier per-minute roaming rates will apply.
Set to WiFi Mode. This applies not only to travel, but also for everyday use. When in WiFi mode, your phone will automatically default to and pick up any available wireless signal. If no signal is found, or when WiFi is turned off, your cellular service kicks in, eating up your precious data allowance, and possibly leading to overage charges, depending on the type of data plan you have.
Set to Airplane Mode and just use your device as a PDA. This will turn off all your wireless services, preventing you from making calls or downloading data, while still allowing use of the camera, music player, video player and E-book reader to your heart's content without getting charged.
Set to Phone Mode. Turn data services off and leave voice services on. You can make calls and send texts without incurring data roaming charges in this mode. Cellular at Sea and voice roaming charges still apply onboard ship. On shore, voice roaming charges will still apply.
Set Your Phone to Safe Mode. What's that, you ask. Turn the phone off and lock it in the cabin safe - or "safe" mode. Disconnect and truly relax on your cruise!
Do you qualify for free or discounted minutes? If you are a member of a cruise line's frequent cruiser program, you may be entitled to free or discounted data minutes. If not, data packages are available at a discount off the per-minute rate, and sometimes even further discounted if you purchase in advance of your cruise.
Connect to the internet only when necessary. Compose your email offline, and then only go online long enough to post.
Use the onboard internet at off-peak hours. The connection will be faster in the middle of the night than midday.
Use an internet café in port. If it can wait, hold off sending your email until you can find a WiFi connection in town.
Uncheck Data Roaming. With "data roaming" unchecked in your phone's preferences, you'll never incur a data roaming charge.
Turn off Location Services. This will prevent some apps from constantly trying to update your location.
Uncheck Data Synchronization. Data synchronization consumes bandwidth in keeping your accounts up to date.
Turn off Data Push. Some email accounts, like Gmail, push the data to your smartphone. This will incur data charges even if you don't open the emails.
Your smartphone can be a great tool for staying in touch. After all, your smartphone is - well - "smart". So should you be!
By Janice Neves ~ CruiseCrazies Contributor
For more cruise news & articles go to http://www.cruisecra....com/index.html