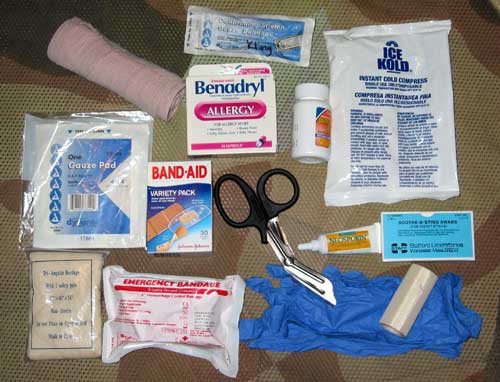 Your food is included, and sometimes even the drinks are as well. One of the best things about going on a cruise is the total freedom from worrying about having to pay for anything during your stay. Unfortunately, incidental charges add up and have to be paid for at the end of the cruise, and one of the worst can be for a simple medical consultation. Seeing a doctor onboard for something as basic as seasickness medicine or blisters on your heels can cost upwards of $100, according to Frommers, none of which is needed when you pack your own basic medical supplies. No one expects you to set your own broken bones, but for minor medical problems your own emergency kit can save you time and a lot of money.
First Aid for Everyone
You don't need to pack an entire comprehensive first aid kit just for a short cruise, but bring along some of the more commonly used items. Bandages for small cuts are useful, as is moleskin to prevent blisters on your feet. Pack over-the-counter medication such as pain reliever, anti-diarrhea medicine, insect bite spray and antihistamine for allergic reactions. Antibiotic wipes and hand sanitizer are handy and take up little room, and sunscreen and lip balm are basic necessities for any cruise.
Care for Your Eyes
Eye drops are handy for eyes that are out in bright sunlight and salt spray all day, and they'll also take care of dry, itchy eyeballs if you're suffering from allergies or long nights of partying. If you wear corrective eyewear, it's doubly important to pack emergency supplies for your eyes. If you wear glasses, bring along another pair in case of breakage. Check with your eyewear professional to get an inexpensive replacement pair just for traveling. Contact lens wearers should always travel with extra pairs of contacts. Sites such as visiondirect.com allow you to purchase inexpensive supplies online, saving you time and money.
Personal Medical Conditions
If you have any kind of chronic medical condition, it's important that you carry extra supplies of medication with a complete prescription in your name attached. It might seem convenient to transfer some of your pills into one of those tiny keychain pill bottles, but anyone traveling in international waters is subject to search. Unlabeled pills will probably be confiscated and discarded, leaving you without a supply of your needed medication. A copy of your medical records can be helpful if your condition has a possibility of worsening during your cruise. Do some research about your medication and the countries you'll be touring, Some ingredients are banned in some countries, while being perfectly legal in others. For example, codeine is banned in the United Arab Emerites, and penalties can apply if you're found with banned substances on board. If you will run into a problem with one of your medications, check with your doctor about alternative medicine options while you are on the cruise.