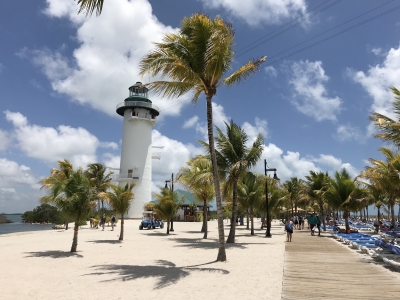 Cruise lines are scrambling for ways to re-introduce cruise travel to loyal repeat guests and new cruisers alike and to once again earn their trust. Besides beefing up existing health and safety precautions and introducing new ones, the cruise industry is brainstorming itineraries and destinations to reassure the public that cruising is still the safest means of vacation travel.

One chief factor figuring into cruising's re-launch are private island destinations, and these will be an important inclusion in the first itineraries once cruise lines are able to resume service from U.S. ports. In fact, some brief 3-5 day itineraries on early sailings might include only private island stops simply because safety and health protocols can be more easily monitored in a private island setting. Shorter sailings mean fewer worries about being stuck out at sea and allow less time for potential health issues to arise on board. Guests will be among the same group of passengers and crew who have undergone the same screening protocols. Chances of contracting a virus are reduced by eliminating opportunities for mingling with the locals. Finally, cruise lines can limit the number of ships in their private destination ports to ensure there is plenty of space for guests to spread out.
A cruise featuring a relaxing day in a beach paradise is the perfect way to get back to sea. To help you choose, here is a list of various cruise line private island destinations from North American homeports:
Great Stirrup Cay
in the Berry Islands, Bahamas, is Norwegian's private island paradise. The port is occasionally used by sister brands Oceania Cruises and Regent Seven Seas. Besides a beautiful beach, guests have opportunities for snorkeling, paddling, kayaking, zip lining, parasailing and, best of all, swimming with pigs. Guests can grab a bite at the new 8,500-square foot beach buffet which includes a central pizza making station, two grills, and hot and cold food stations. Another complimentary option is
Abaco Taco
, where you can craft your own delicious taco. In November 2019 Norwegian added a new feature,
Siilver Cove,
a resort-style area with its own lagoon and private beach. Guests who rent one of the 38 beachfront villas have use of the Manara Spa, Moet Bar and Silver Cove Restaurant and Bar. The ship anchors at this port without the need for tendering ashore.
On Disney Cruise Line's private island,
Castaway Cay
,
visitors will find a wide variety of fun for the whole family including Disney character greetings. Amenities include beaches, lagoons, splash areas, walking trails, open-air complimentary BBQ dining, 2 shops featuring Disney gifts and souvenirs, free tram transportation around the island and more. A popular family activity is the exciting
Lilo and Stitch Dance Party,
but the standout feature of
Castaway Cay
is the option for parents to drop the kids off for fun at one of the age-appropriate island kids' clubs at
Scuttle Cove
so they can enjoy some alone time at the adults-only
Serenity Bay
. Ships can dock right at the island pier.
Voted the #1 private island by Porthole Cruise Magazine 17 years in a row, Holland America Line's island in the Bahamas,
Half Moon Cay
, is also used by Holland America's sister brands in the Carnival Corp. family. A wide range of activities await guests including snorkeling, kayaks, catamarans, paddleboards, trail hikes through nature preserves, and more. Food choices consist of The Tropics Restaurant with shaded dining pavilions for a BBQ lunch and fresh-grilled lobster served at the Lobster Shack. Kids and families will have fun at the new children's water park, but the most unique feature of Half Moon Cay is the availability of horseback riding on the beach and in the surf. Another exclusive feature on the island is a chapel for weddings or vow renewals. Guests can opt for a two-story colorful beach villa rental. Guests must tender to the island.
Opened in 2017 and owned by Norwegian Cruise Line,
Harvest Caye
is the only private cruise destination in Belize. Sister brands Oceania Cruises and Regent Seven Seas also include Harvest Caye on their Caribbean itineraries. The island makes for a perfect beach day and is loaded with activities for everyone. Besides the 7-acre beach, guests will find an expansive pool area with swim-up bar and cascading waterfall, a salt water lagoon for kayaking and paddle boarding, a ropes course, nature center, and a shopping village with local crafts. Beachside cabanas are available to rent and feature a concierge for food and beverage service. Zip lining can be found at the Flighthouse, 136 feet high above the beach. There is a large food and beverage area.
Note
: Unlike other private island calls, guests must pay for food and drinks, as the concessions are run by the Belizean locals.
Harvest Caye
is a quick ride to mainland Belize, and Norwegian's shore excursion options from
Harvest Caye
will include Mayan ruins, spice farm, ecotours and rainforest river tubing. Ships dock directly at the pier, with no tendering required.
Labadee
, located on the northern coast of Haiti, is Royal Caribbean International's private destination. This little piece of paradise offers fun and relaxation spread out over five "neighborhoods", Adrenaline Beach, Columbus Cove, Buccaneer's Bay, Nellie's Beach and the Town Square. Included in the fun are a zip line, Dragon's Tail Coaster, Dragon's Splash Waterslide and Arawak Aqua Park. For those looking for more relaxation, guests will find spectacular beaches, nature trails, shaded hammocks, secluded coves, open air dining, bars, and Haitian craft markets. Guests can also experience Haitian culture on a variety of shore excursions with a focus on cooking, music and history. Royal Caribbean's sister brand Celebrity also makes calls in Labadee, and ships can dock directly at the pier.
Ocean Cay MSC Marine Reserve
Opened in December 2019,
Ocean Cay MSC Marine Reserve
is MSC's private Bahamian island with a focus on marine conservation and coral restoration. Ocean Cay has the distinct feature of being the only cruise line with extended island stays into the evening, allowing opportunities for light shows, sunsets, fire pits, stargazing and a Bahamian Junkanoo "street parade". Guests can unwind, relax and connect with the abundant beauty of the island. It is home to 8 world-class beaches, enchanting sea life, 8 massage huts on the beach, authentic Bahamian cuisine, tropical cocktails, a Bahamian shopping village and more, with an exclusive hideaway for MSC Yacht Club guests. Available family and children activities include the Family Lagoon Beach and Children's Activity Pavilion. Optional tours are available for rafting, kayaking, snorkeling, family beach cabanas and more. Ships can dock at the island pier.
Princess Cays, Private Island Resort
Princess Cays
is the private island for Princess Cruises and sits on the southern end of Eleuthera in the Bahamas. Sister Carnival brands also call at Princess Cays. Princess Cays is the most laid-back of the private islands. While it doesn't have giant water slides, zip lining or ropes courses, it does provide for a perfect relaxing day at the beach. Guests will enjoy a white-sand private beach situated on more than 40 acres. While carefully preserving this natural paradise, the resort boasts an observation tower, a complimentary beach barbecue, and activities such as snorkeling, fishing and a stingray encounter. Recreational activities abound. Enjoy volleyball and a full range of water sports, or simply relax on the beach and enjoy the view in a shady lounger or in a clamshell available for rental. Unlike some cruise Bahamian private islands, Princess guests can experience local culture by visiting Eleurthera's small villages like Rock Sound. Guests must tender to Princess Cays.
In 2019 Royal Caribbean took it's original Bahamian island of CocoCay and re-invented it as
"Perfect Day at CocoCay"
, spending a cool $250 million. Perfect Day now features a wide variety of theme park-style thrills - a waterpark with the tallest waterslide in North America and the most slides of any waterpark in the Caribbean; a helium balloon ride that rises to 450 feet above sea level; and a 28,000 gallon wave pool. For something more relaxing, guests can head to Chill Island, with its cabanas and daybeds, or spend the day at the beach. Never shying away from innovation, Royal Caribbean is proud to feature the exclusive Coco Beach Club with the first Floating Cabanas in the Bahamas. A unique feature to Perfect Day is the neighborhood layout, similar to that of a typical theme park, with names like Oasis Lagoon, Chill Island, Thrill Waterpark and South Beach. Ships can dock at the island's pier.
The Dominican Republic had not had a cruise ship call to its shores in over 30 years, but thanks to Carnival Corp., which invested $85 million, Amber Cove has become a popular port stop, welcoming Carnival, Princess and Holland America. The port offers a combination of fun, history and culture on the Dominican Republic's northern coast. Cruisers can enjoy everything from ziplining and kayaking to shopping and swim-up bars. Available for rent are overwater cabanas that have their own deck and outdoor shower. Guests can also leave the private area and venture to nearby Puerto Plata for great shopping, authentic Dominican dining and a closer look at the first European settlement in the Americas. Look out for familiar scenes from the first Jurassic Park movie, part of which was filmed in Puerto Plata. (The fossilized amber can be found at the city's Amber Museum.)
The
Grand Turk Cruise Center
is the only cruise port in the Turks and Caicos, and the 18-acre $50 million complex was opened by Carnival Cruise Lines in 2006. It's highlight is the huge, lagoon-like swimming pool, where private pool-side cabanas with waiter service can be rented. The port is home to the Caribbean's largest Jimmy Buffett's Margaritaville bar, restaurant and retail shop. There is a 45,000-square-foot shopping center offering duty-free shopping, jewelry stores and locally crafted souvenirs and gifts. The biggest feature is the Grand Turk FlowRider surfing simulator, which the port boasts is the only one of its kind located in a cruise facility. Grand Turk is one of the few destinations in the Caribbean where a great beach and snorkeling can be enjoyed directly off the cruise ships.
______________________________
 
By Janice Neves, CruiseCrazies Authorized Agent