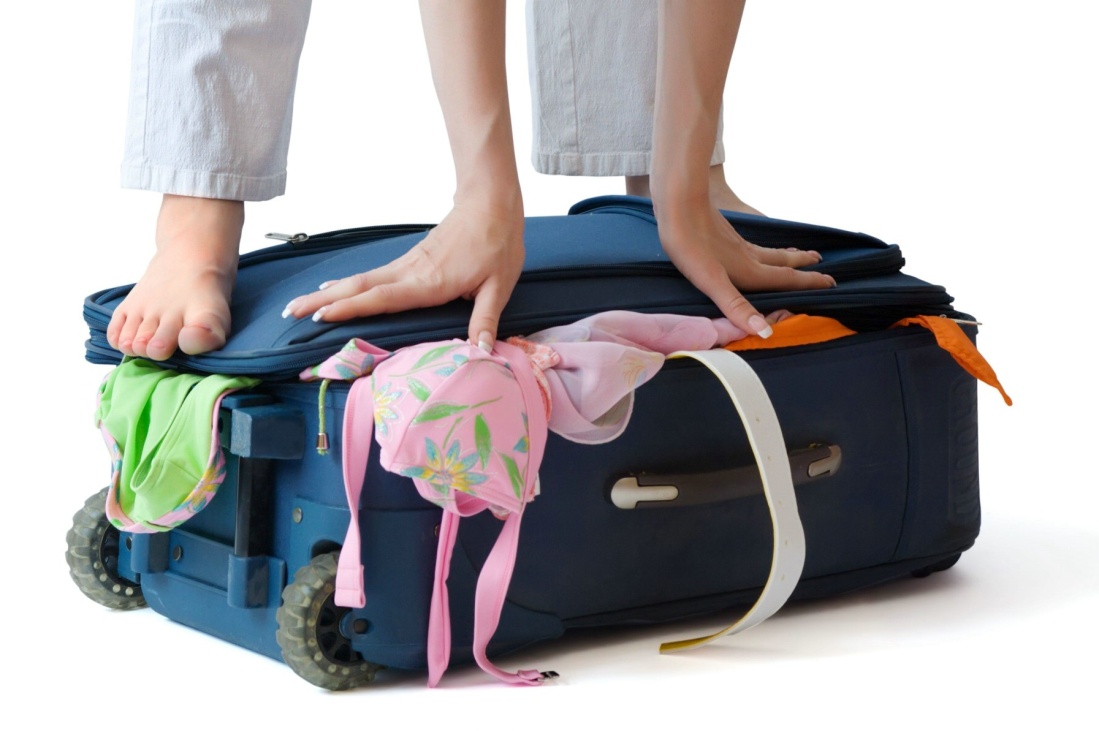 I've learned my lesson the past two summers. Despite swearing under oath that I would pack lighter, I found myself last July at the airport in Boston transferring items from my overweight carry-on to my check-in luggage due to Virgin Atlantic's absurd weight limit for hand baggage. The summer previous, I resigned myself to tossing out an entire piece of luggage - after dividing the contents among the family's other bags – when I couldn't fit the darn thing in the rental car in Lisbon.
Now I am determined. This will be the summer in which I slim down my suitcase. I've already purchased a set of modern featherweight luggage, and have begun researching ways to pack lighter and avoid overweight bag fees for both checked and carryon luggage. Here's what I've learned.
Ditch the hefty bag.
Efficient, lightweight packing begins with the right bag. Luggage makers are coming up with new lighter luggage that is not only easier on the back and shoulders when flinging it up and into the overhead bin, but supposedly durable, as well. Not to say that my checked bag won't be mangled by an airline Olympic luggage hurler. But it should be no more prone to damage than a heavier bag.
Shoes: Fewer and lighter
Shoes are the biggest suitcase hogs and the packing item I've traditionally agonized over the most. Fashion, comfort and weight are a delicate balance, but given the style choices for women, I'd go out on a limb and say it's easier for us females to lighten the load with flip-flops and flats and still retain a sense of style. Still, there are choices for guys who love their shoes. Travel outfitters, such as Magellan's or TravelSmith offer styles built for comfort and are lightweight, as well. Personal preference and destination will dictate what footwear you pack. In my quest to keep packing simple, I have recently tried to limit myself to three pair for a 7-day vacation – an arduous task for someone who likes to be prepared with the right footwear for the appropriate moment. My three-pair limit now includes an athletic/hiking shoe, a sturdy walking sandal and a dressy pair. If I have room, I may cheat and throw in a lightweight pair of flats.
Toiletries: How much do you really need to bring?
Thanks to the TSA carry-on restrictions, travel-size shampoos, conditioners, soap and the like are abundant in the trial size rack of every discount mart and pharmacy.
The best and lightest option, of course, is to leave what you don't need at home. Hotels and cruise ships provide at least the basics and will be glad to refill as needed.
Organization: minimize and lighten.
Mesh bags and other lightweight storage bags have replaced a previous generation of bulkier shoe bags, toiletries kits and suit bags to help compartmentalize your suitcase. Your average garden-variety Ziploc storage bag does an equally great job of keeping your things safe and wrinkle-free. Simply enclose your favorite clothing items, squeeze the air out, and you're good to go. As an alternative to the airtight bag technique, there is the roll-up method. Roll your clothes, place them in the bag's main compartment, remove and hang when you reach your destination. All you'll need is a travel size bottle of Wrinkle Release to minimize any wrinkling. While we're talking bags, save those dry cleaning bags. They will help protect and keep the hanged items wrinkle free.
Clothing and Outerwear:
When gathering or shopping for vacation clothing items, look for fabrics known for being particularly lightweight, such as silk and synthetics – nylon and polyester knits. For colder climates, warmth without weight is the key. When shopping for outwear, look for jackets in microfiber. When traveling to colder destinations, it's tempting to bring bulky wool coats, sweaters and jackets, which are heavy and take up valuable space. Instead, think "layers". Layering a lightweight weather-proof jacket with a sweater and knit top, etc. will give you more options, make you more comfortable, and allow clothing to do double duty.
Don't pack the hooded sweatshirt. Wear it in transit. It will come in handy if the A/C is too high on the plane, boat or train. More importantly, you can use it as a pillow, or – this is my personal favorite - loan it to your kid who forgot her hoodie at home.
Color coordinate. Mix and match so that every item of clothing can be worn with any other in your bag. Stick with blacks, grays and neutrals. This will allow for a black top to do double duty as daywear with khaki pants and a dressy piece with a black skirt in the evening. Simply dress it up with a scarf or other accessory. Eliminate clothing pieces that can only be worn once.
Consider an E-Reader.
Depending on how many books you plan on reading at the beach, an E-reader or tablet will save you space and weight. Even better, your device can serve double duty as a place to store your e-docs and guide books, cutting down on the amount of paper you need to haul with you. For even more convenience, download handy travel apps such as maps, packing lists and city guides. Whichever electronic device you bring, don't forget the charger!
Leave room for souvenirs.
You're happy. Your bag is packed, you're under the limit, and you can lift it without developing a hernia. But you've left no room for gifts you'll bring home. Hopefully, you haven't already used the expansion feature of your luggage even before your trip has begun. You'll need it later for the return trip. As an alternative to expanding your luggage and possibly risking an overweight fee at the airport when flying home, pack a spare compact duffle or tote in your luggage to serve as a carry-on, as long as it complies with the airline's regulations on hand luggage.
By Janice Neves, CruiseCrazies Contributor
For more cruise news & articles go to http://www.cruisecra....com/index.html