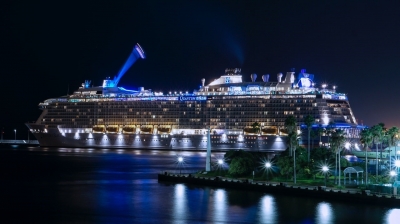 Across the world, there are many cruise ship casinos that provide an exceptional experience. After all, for those who enjoy gambling, what place could be more picturesque and idyllic to gamble than on a cruise ship? In this list, we will have a look at the very best that cruise ships have to offer in terms of casinos. 
 
Allure of the Seas
This cruise ship is one of Royal Caribbean's cruise liners. The ship is exceptionally long and has everything you would expect a top class cruise liner to have. On top of that, it has its very own casino with a wide selection of slots, various roulette wheels that you can sit down at and many tables with live dealers and games such as blackjack or baccarat. You get service directly to wherever you are playing, adding even more to that Vegas feel that you are getting at sea!
Queen Mary II
The Queen Mary II is Cunard Line's flagship vessel, and it is clear to see why. The ship takes a transatlantic route from New York to Southampton and the entire interior is luxurious. The casino onboard is smaller than all the other ones on this list but it more than makes up for it with luxury and comfort. It has an intimate but elegant feel to it, and as you play blackjack, roulette, three card poker and video poker, you will feel more like you are at Monte Carlo than in the middle of the Atlantic. 
Norwegian Escape
The Norwegian Escape usually takes its guests on an incredible trip through the Caribbean and the Bahamas. It has one of the biggest casinos on a cruise ship anywhere in the world and rivals many online casinos like Findbettingsites.co.uk, totalling over 300 slot machines and table games. It also has a wide range of games available to play such as but not limited to blackjack, craps, 3 card poker, baccarat, let it ride, pai gow poker and Texas hold em. 
There are also tournaments for blackjack, slots and hold em, but what makes the Norwegian Escape truly stand out is twofold. Firstly, smoking is permitted in the casino. Secondly, it treats its high rollers as valuable customers, with a VIP area dedicated to them with live dealers and reward programs that gives out more depending on how much you put in. 
Norwegian Epic
Another Norwegian titled cruise liner, this ship is over 1,000 feet long and as such provides a plethora of choices for entertainment. There are live Cirque du Soleil shows on board to enjoy, and the Epic Casino has a wide variety of slots as well as an elegant area for those who wish to enjoy a game of blackjack, craps and roulette. This is perfect for those who wish to go on a luxurious cruise and who want to also gamble on the side, whereas a lot of the other choices on the list should be picked for their casino itself. 
Any cruise liner
Nowadays, most cruise liners have reliable internet connections if the weather allows for it. This means that if you wish to play casino games while you are on a cruise, you can do it regardless of the boat having a casino, you can just hop online!
If you do not have an account with any online casinos before going on your cruise, make sure that you sign up and then you will have access to hundreds of slots, massive varieties of table games, all stakes of poker etc. With the internet today, you can take the casino with you!