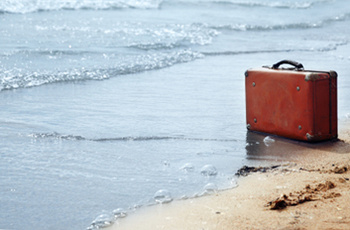 If you are taking a 7-day cruise or longer and flying to your port of embarkation with only carry-on baggage to circumvent absurd baggage fees, please come back and tell us your secret. But if you are like the rest of us, however, then you will most likely need to check at least a piece of luggage. With baggage delays, lost or damaged bags and occasional sticky fingers of TSA or airline personnel, you'll want to carefully consider how you will pack. In no particular order, following is a list of what you should not stow in your checked luggage. The list may seem like a no-brainer to experienced travelers, but young people who may be traveling on their own for the first time will find it helpful.
Identification, passports, boarding passes, and essential documents.
All necessary documentation should be kept with you in your carry-on bag. In addition to the originals, save copies to a flash drive and/or PDA for back up, and leave copies with a trusted person at home.
Cash, debit and credit cards.
Luggage sometimes gets lost, delayed or damaged in transit and while it's rare, theft by dishonest TSA workers inspecting checked bags unfortunately does happen. Your cash, checkbook, and credit cards should always be kept with you in your carry-on bag.
Laptop, tablets, E-readers and cameras.
Two things can happen if electronics are packed in your checked bags: Theft or damage. No matter how many beach towels or bubble wrap you've wrapped around your laptop, it's still at the mercy of baggage handlers and bumpy flights while in transit.
Prescription Medications
Let's face it. If a doctor has prescribed it, then you must need it. Don't risk your health by losing it in checked luggage. Passengers are permitted to bring liquid medications onto planes, even if they exceed the 4-ounce limit for carry-on liquids. But you'll need to officially declare your oversized liquid medications when going through the checkpoint. Tell a security officer stationed at the checkpoint that you're carrying liquid medications, and hand them over for inspection. It helps to have a doctor's note or a medical ID card, but it's not required. The TSA also suggests that travelers label medications to facilitate the screening process.
Jewelry and valuables
Simply stated, it's best to leave jewelry and other valuables at home while traveling. However, if you must bring them, store them safely in your carry-on luggage. If your checked luggage happens to contain a rare antique watch, a family heirloom, or your wedding ring, you could be in for trouble should your bags be lost or rummaged through. Most carriers require passengers to submit claim forms when bags are lost. Your airline will then tally the depreciated value of the contents of your missing suitcase—if your claim is accepted, that is. Airlines will pay no more than $3,300 per passenger for bags lost on domestic flights. All in all, it's unlikely that you'll receive compensation equal to the full value of your lost possessions.
Your entire wardrobe
A complete extra change of clothes in your carry-on is ideal, but at the minimum pack a change of undies, a clean shirt, deodorant and a toothbrush. Particularly, if you are on a cruise, a swimsuit will be handy, too, in case your luggage doesn't find its timely way to your cabin. At least you can cool both yourself and your temper by taking a refreshing dip.
Lighters, matches, and flammable items
The TSA has a handy checklist of prohibited items on its website. Some of the objects on the list are obvious: gun powder, hand grenades and tear gas, for example. Other items of note, however, include lighters, matches, and flammable objects, which anyone going on a camping trip (or travelers who smoke) might need to pack. Lighters without fuel may be packed in checked luggage. Lighters with fuel, though, may only be packed in checked luggage if they're in a DOT-approved case. Matches are prohibited in checked baggage.
Breakable items
Don't blame it all on the baggage handlers – they're just doing their job. You'll need to do your part, as well – keep breakables out of your checked bag and carry them on board. If you must bring home that precious bottle of red, use protective packing material designed for protecting the contents of your bag in case the bottle should break.
Film
If you missed the digital train and are still cruising on film, you'll need to pack it in your carry-on. The X-ray machines that the TSA uses to screen checked bags can damage film. Instead, put your film in your carry-on bag and ask the TSA agent at the security checkpoint to inspect your film by hand. The TSA suggests that travelers pack film in clear canisters or clear plastic bags to expedite the inspection process.
Food and Drink
According to the TSA, flyers should avoid putting food and beverages in checked bags. Passengers aren't prohibited from storing food items in checked bags, but it's a wise suggestion nevertheless. Perishable food is likely to spoil if luggage is lost or delayed, and bottled drinks could potentially explode or crack in transit, thus ruining the fancy formal clothes you brought for dress-up night. If you're traveling internationally, you may be prohibited from bringing food to your destination. Each country has its own rules about what kinds of foods can be brought across borders. Also keep in mind your cruise line's policy about bringing alcohol on board the ship. Forbidden booze could not only break but, if discovered, will get you sent to the mysterious "naughty room" at the cruise terminal.
By Janice Neves, CruiseCrazies Contributor
IStock Photo 9555506 © Arman Zhenikeyev