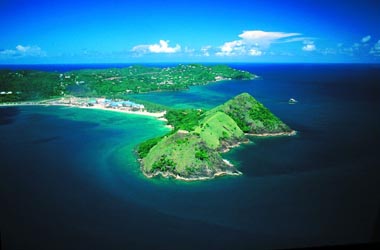 The usual ports of Nassau, Grand Cayman, Cozumel, Grand Turk, and St. Thomas offered by a Caribbean cruise are heavily trafficked and will likely remain that way in the years to come. Though these ports of call offer wonderful excursions and beautiful sights, there are many more exotic Caribbean ports off the beaten track. Here are some within the "Deep Southern Caribbean."
St. Eustatius. Barely heard "Statia," even among intrepid Caribbean cruisers, is an 18th-century Dutch colony that gained prominence as the busiest bouncing off point of goods from Africa, Europe and the New World. A quiet speck on the northeastern arm of the Lesser Antilles with a virtually non-existent cosmetic makeover, Statia is nonetheless earning top respects from the best scuba divers in the world.
St. Kitts. The larger half of the Anglo-French two-island nation on the rear end of Statia, St. Kitts is the more vibrant British sibling of Nevis. Basseterre is an increasingly major port of call in the Deep South and was the recipient of a major economic boost to align the infrastructure with the increasing demand for better accommodations, retail commerce and entertainment. Visit the beautiful plantation estates or the downtown scene which pulses with cool-bar and vacation vibes.
St. Lucia. Increasingly gaining reputation as a glamorous honeymoon destination, St. Lucia stands up to scrutiny. It pokes out of the Caribbean like a vivid emerald, thanks in large part to its misty rainforests and rolling hills of greenery. The volcanic plugs of Pitons that rise out of the sea like natural pyramids have been named on the World Heritage Site list. The waters offer an equal attraction: Sailing and scuba-diving activities are a must.
St. Vincent and the Grenadines. This island nation west of Barbados is a 1-in-32 proposition: one destination, 32 islands. The Wallilabou Bay became a Hollywood sensation when the Pirates of the Caribbean docked for a movie shoot. But the real gems are tucked away from the largest island (St. Vincent) and its capital, Kingstown. Thirty-one other islands tantalize with white, sandy beaches and sheer tranquility. Here, time is nothing but a passing of sunrise and sunset.
Keep in mind that destinations in the Lesser Antilles, including the above, are yet to see full-blown attention from cruise ship travelers. This means that itinerary offerings are infrequent, cruise time is longer than the typical eastern or western itinerary of seven days, and plane flights are bound to be more expensive (south bound cruises generally leave San Juan in Puerto Rico).