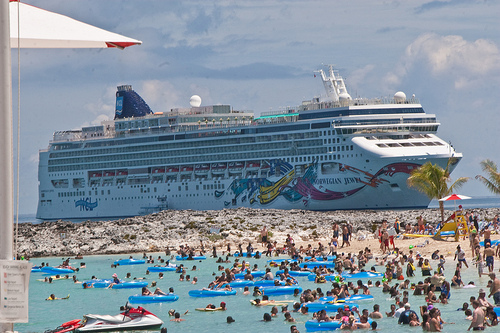 How can a cruise line differentiate itself from all of its sea-faring brethren?
While some lines are offering themed voyages, celebrity guests and upgraded mega-ships, others are looking to private ports to distinguish themselves.
The Monsters of Rock Cruise, which will set sail again next spring and will transport guests of the hard rock/metal-themed cruise to "Monster Island," a "secret" private Caribbean island, according to its press release.
Private islands have become increasingly popular among cruise lines. Rather than dropping guests on busy beaches to battle crowds, cruisers can experience the exclusivity and tranquility of a private island. While most of the cruise line islands offer similar amenities, many boast unique features that could give them an edge over the others.
Here are 5 islands that should be on any cruiser's to-visit list.
1) Disney's Castaway Cay
Like a mini-Disney World, but in the middle of the ocean, Disney Cruise Line's 1,000 acre island in the Bahamas is a destination in itself. Castaway Cay features the typical beach activities like snorkeling, boating and swimming, but adds that quintessential Disney flair. Kids can play on a floating platform called "Pelican Plunge" and meet Mickey and his crew while teens hang in "The Hide Out" and adults get their suntan on.
2) Royal Caribbean's Labadee
Technically a private peninsula, Labadee is located on the north coast of Haiti. The island boasts thrills in the form of an aqua park, zip-lining, a roller coaster and parasailing. The guests-only resort is separated from the rest of the island, so those hoping to visit Haiti might be disappointed. The island does offer some local flair in the form of a Haitian market.
3) Norwegian's Great Stirrup Cay
Great Stirrup Cay is a 250-acre island that offers pristine beaches, peaceful relaxation and just enough activity for kids and active adults. Purchased in the 1970s by Norwegian Cruise Line (which was the first to offer guests access to a private island), the island recently invested $25 million in renovations completed in 2012, so guests can expect a clean and contemporary stop.
4) Princess' Princess Cays
Located on on the southern tip of Eleuthera, Princess Cays is known for its 1.5 miles of white-sand beaches that offer guests a reprieve from the cruise deck. The island is partially inhabited, so guests looking for authenticity will enjoy access to local vendors and can check out the pineapple festival which is held each year in June.
5) Holland America's Half Moon Cay
Half Moon Cay is the perfect island for adults looking to go on a bit of an adventure. The island offers excursions like deep-sea fishing, a stingray adventure, and land-and-sea horseback riding. The property, located on the island of Little San Salvador, boasts 2.5 miles of crescent-shaped beach, a tram, and -- if you get the urge to get married while on the island -- a wedding chapel.
By Lisa Miller, The Huffington Post
For more cruise news & articles go to http://www.cruisecrazies.com/index.html
Re-posted on CruiseCrazies.com - Cruise News, Articles, Forums, Packing List, Ship Tracker, and more