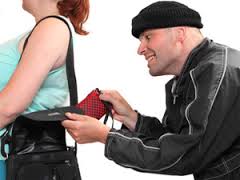 Thieves love cruise ships. They know that excited passengers will disembark in port, en masse, armed with cash, credit cards and electronics. New surroundings and lack of caution can leave even savvy travelers vulnerable to opportunistic pickpockets and purse-snatchers. Rest easy, though. There are simple things you can do to prevent your happy shore trip from turning into a very sad event.
Avoid electronic theft. Even before leaving home, inform your credit card companies of your travel plans and photocopy all your important documents including your passport, both sides of your credit cards, travel itinerary, driver's license and contact information. Leave one copy at home with a trusted individual and another in your cabin's safe. In the event of a theft, you'll have the information you need to contact the appropriate authorities. Alternately, scan and send the documents to your email or cloud storage account, so you can access the information from any computer.
Don't flash your cash. Whether getting cash at an ATM machine in port or making a store or vendor purchase, be discreet. Prominently displaying all those bills is an invitation to muggers.
Don't walk and talk on your cell phone. This tells a would-be thief that you are oblivious and not paying attention to your surroundings. That phone you're carrying is easy money to a thief and a simple grab and run item. Not only will he get a great phone, but he'll also have access to your personal information. Keep your phone hidden away on your person and take it out only for emergencies.
Stay awake and alert at the beach. What's the best thing about cruising to the Caribbean? The beaches, of course! You arrive in port, grab a cab and head straight for a patch of sand on the best beach in the area. You're feeling all mellow and relaxed, and you're in the moment. Two hours later, you wake up and not only are you badly sunburned, but you're stuff is gone – your camera, your wallet and all your money and credit cards. Be watchful of your surroundings, and stay awake. Besides, you'll miss all the great scenery.
Stay sober. What's another popular pastime in port, especially in the Caribbean? The bar scene, of course! You're much more likely to be ripped off by a thief or scam artist if you're inebriated. If you plan on partying in port, either keep the drinks to a minimum or bring along a non-drinking buddy to look out for you.
Hide your valuables on your person whenever possible. The best method of carrying valuables is directly on your person. Clothing with deep front pockets secured by zippers and buttons are harder to for a thief to get into. The worst way to carry anything is in a backpack, which can be opened or slit without the wearer ever knowing – especially common in a crowded place. Cross-body bags are a much better choice than shoulder bags. A money belt worn across the body or around the waist is a good idea under a jacket, as long as it's not visible, but easily accessible.
Touring solo? Be smart but cautious. While it's safest to travel in a group, touring alone can be a rewarding experience. You can tour at your own pace and not hold anyone else up in the process. Regardless of how independent you are at home, when you're somewhere new, it's always better to err on the side of caution when it comes to your personal safety. If you happen to find yourself in a secluded area or making your way back to the ship after dark, for instance, rather than taking on the streets solo, catch a cab or find a trustworthy buddy or group to latch onto.
Serious photographers – don't lose sight of your surroundings. If you're a serious photographer, you're unlikely to leave your cameras behind on the ship. While you're taking the time to carefully compose shots of all the incredible sights you came to see, always be aware of your environment.
Don't Look Lost. We all lose our bearings at one time or another. The worst thing you can do if you're lost is to look confused or unfold a map and stare blankly at it. Try to map out your route ahead of time, look confident, and if you become disoriented, stop by a hotel or restaurant for directions or a taxi without attracting unwanted attention from thieves scanning the crowds for an easy target.
Have fun on your day in port. Just be alert and smart.
By Janice Neves ~ CruiseCrazies Contributor
For more cruise news & articles go to http://www.cruisecra....com/index.html