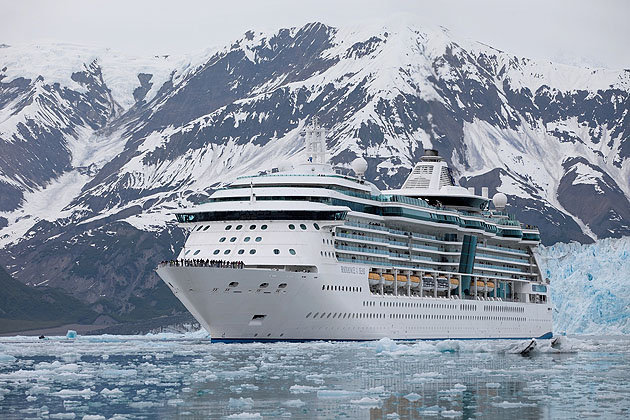 The unspoiled sights and sounds of Alaska offer you the opportunity to indulge in a vacation like no other. You can sit quietly on the veranda of a rustic cabin as you wait for some of Mother Nature's most majestic animals to walk by and tackle some of the world's most challenging and visually stunning hikes. Or, enjoy the view of snow-capped mountains and a humpback whale breaking the surface of the sea as you cruise past them on a luxurious liner. The beautiful scenery would make for a perfect family photo for a Christmas card or keepsake. Whether you want to stow all of your belongings in a van and hit the road or indulge in some of life's finer amenities, an Alaskan cruise vacation offers something for every kind of traveler.
Travelers report unmatched tales of wildlife encounters, ranging from heart-thumping bear sightings and caribou crossings to peaceful and playful seal encounters. There's a wild, natural feel to this land, which grants travelers with the understanding of why human life seems invisible in Alaska.
Cruising the Seas
Ranging from day-long tours to extended vacations, an Alaska cruise vacation is a great way to explore this pristine land. Against a backdrop of stunning glacial scenery and surrounded by humpback whales, sea lions, orcas and many others, your cruise vacation can take on a life of its own. Some enjoy a fishing expedition, while others take a cruise to learn how to communicate with pods of whales; still others sip cocktails, enjoy great food and catch a few shows while enjoying stops at selected ports, including fishing camps, Indian villages or a major city or two.
Getting There
Many Alaskan villages are inaccessible by road, connected to the world only by Internet and flight. The people who live there rely on bush planes and riverboats to deliver everything from snacks to the mail. Many cruise lines offer tours that combine overnights in ports with overnights at sea.
Cruise tours take typical excursions and turn them into one- or two-night stays in ports. Travelers love the combination of sea and land, because they are not rushed to pack sightseeing into a few hours. With a cruise tour, they stay in an area for a day or two and leisurely enjoy the area.
Celebrity Cruises has a tour that starts on in Calgary, Alberta, where travelers spend one night. From there they go by motorcoach to Banff and Jasper, Alberta, where they overnight, and then onto Vancouver, B.C., where they stay two nights before boarding the ship that takes them on a week-long cruise through Alaskan waters.
There are few spots in the world that offer as wide a range of natural features and stunning wildlife as Alaska does. Whether you are a naturalist who always has a set of binoculars around your neck or a gourmand who wants to try to native Alaskan cuisine, you will not be disappointed by a trip to this land.