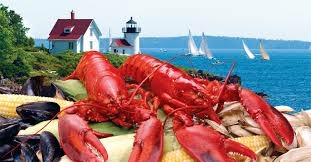 [There's nothing like talk of cruises, summers in Maine and New England lobster bakes to make us believe that warm days and sunny skies can't be far away! ~ Jan]
Maine Lobster lovers have a cruise to call their own; in fact, they have an entire season of them.
American Cruise Lines said that every one of its cruises along Maine's coast this summer would be lobster-themed.
Citing the popularity of its lobster cruises in previous years, the small-ship cruise line said that in 2014, its eight-day Maine Coast & Harbors cruises would all feature lobster cuisine, a lobster boat excursion and a traditional lobster bake.
The line's 49-passenger American Glory and 104-passenger Independence will offer the cruises beginning in early June and sailing through September.
American Cruise Lines calls its signature New England Lobster bake set up on the shore of Penobscot Bay the highlight of its cruise, with fresh lobster, clams and corn all steamed in kelp seaweed over hot coals. The dinner also features live music and views of Rockland Harbor.
Typical dishes that will be offered on menus during cruises will include stuffed lobster tail, whole steamed lobster, lobster pot pie, lobster risotto, lobster omelets and lobster ice cream.
The lobster boat excursion will take passengers on a real lobster boat for what the line calls a "daily catch" experience, while also learning about the lifestyle of Maine lobsterman.
For more information visit americancruiselines.com.
By Johanna Jainchill, USA Today ("Cruise line caters to lobster lovers this summer", Jan. 17, 2014)
For more cruise news & articles go to http://www.cruisecrazies.com/index.html
Re-posted on CruiseCrazies.com - Cruise News, Articles, Forums, Packing List, Ship Tracker, and more
Photo credit: American Cruise Lines