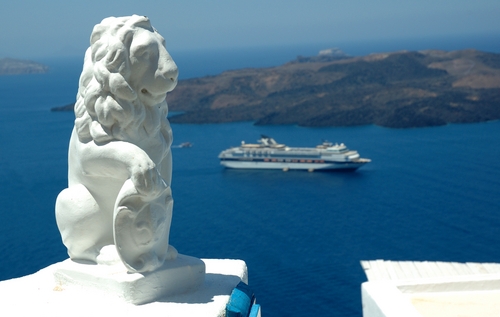 One of the best things about vacations is that it's time off. It's time off from work, it's time off from chores, and it's time off from the diet. As well as great weather, relaxation and pressing the snooze button on the alarm clock as many times as you want, one of the things travellers look forward to most of all is sampling some of the local delicacies on offer at their chosen destination.
For food lovers, is there any better place to travel to than Europe? The beauty is that each country has its own unique cuisine and national dish. Fish and chips in England, tapas and sangria in Spain, pastries and cheeses in France, pastas and pizzas in Italy, cured and spiced sausage in Portugal... the list is never ending. The only problem is deciding where to go.
Fortunately for those who want to tuck in to the best Europe has to offer, there's really no need to limit yourself to a single destination. There is a hassle-free, luxurious way to visit many popular countries all within a single trip; hop on a Europe cruise liner.
Europe cruise itineraries are some of the most varied in the industry. You can choose from a simple trip around the British Isles, a cruise through the eastern or western Mediterranean, western Europe, northern Europe, the Baltics, or take in the lot.
Take a cruise to Hamburg for some authentic sauerkraut, to St Petersburg for a big bowl of borscht, to Mykonos for a plate of moussaka or Istanbul for a piece of sweet and delicious baklava. And don't forget drinks! German beers in Warnemunde, Russian vodka in Svirstroy, Greek Ouzo in Corfu and Turkish coffee in Marmaris.
Of course, being on a Europe cruise is all about enjoying the onboard experiences just as much as the onshore experiences. Europe cruise liners are some of the biggest and best in the world and boast up to 25 different dining establishments, all on one ship.
The food on European cruise ships varies between upmarket fine dining in the sophisticated dining rooms, down-to-earth comfort food in family-friendly diners and burger joints, and self-service buffet-style food, where patrons are encouraged to try out a bit of everything and eat as much as they wish.
Many Europe cruise ships also have celebrity branded restaurants, with some of the most renowned chefs making the occasional appearance. British and European chefs such as Marco Pierre White, James Martin, Aldo Zilli and Gary Rhodes have all lent their names to onboard eateries.
There's not going to be any nasty surprises with the bill either. Dinner in most establishments on a typical Europe cruise will be included in the initial vacation price, including the traditional dining rooms and buffet restaurants. Celebrity-branded restaurants may require a small supplement, but this is likely to only be a few pounds, or less than 10 dollars per person (but check with your chosen cruise company for exact details).
So if you love sampling an array of local delicacies and dishes from the best in the business, you really should consider a cruise, especially a Europe cruise that sails throughout the continent, docking in ports that offer real French bread, real Spanish paella and real Dutch pancakes. Delicious!