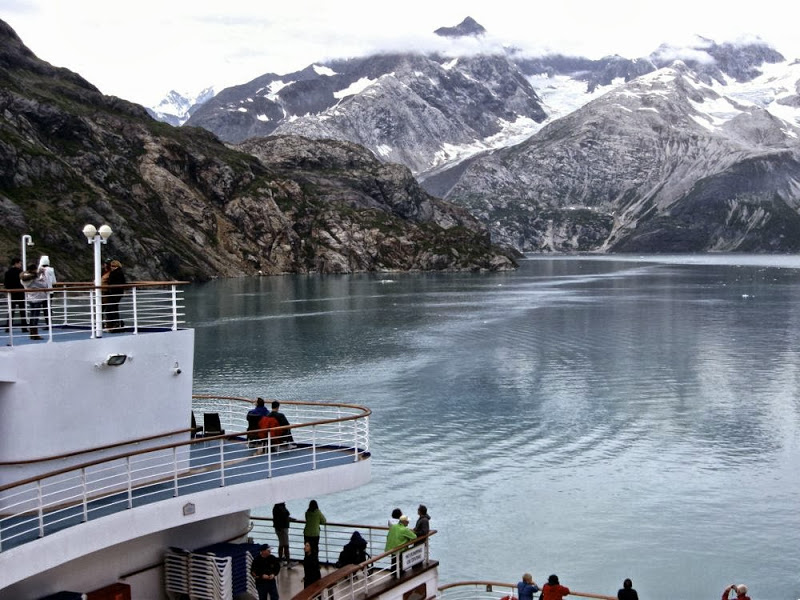 Cruisers unfazed by the recent rain in British Columbia's Princess Louisa Inlet who were on deck of Un-Cruise Adventures' 22-passenger Safari Quest were treated to the unusual spectacle of more than 200 waterfalls. Mother Nature shows off her finest to cruisers, and not just in sea views. Here are some amazing scenes you can see from a cruise ship.
Active volcanoes
The sight of the cone is itself starkly fascinating, but from your ship (at a safe distance) you are treated to the better-than-fireworks nighttime display of glowing lava shooting into the air. See Stromboli on Italy/Sicily cruises or Kilauea on Hawaii cruises.
Glaciers
A lake of ice slowly makes its way down a mountain and — from the comfort of your cruise ship — you can see its final journey as huge blue chunks thunderously calve into the sea. Alaska is the top place to see this sight.
Waterfalls
Around the world, from Australia's Kimberly to the Norwegian Fjords to the Caribbean, towering cliffs with powerful waterfalls bring gasps of delight from cruisers. The energy from the rush of water is palpable, and on small ships you may get close enough to feel the spray.
Jumping fish
Fish that leap out of the water are a common sight on itineraries in places including the Caribbean and Alaska. Some may be actual "flying fish," while others may be leaping while feeding, spawning or being chased by a predator.
Colorful leaves
In New England and eastern Canada in the fall, cruise passengers are treated to colorful vistas of red, orange and gold. It's like watching an artist's mural slowly unfold as you cruise past.
Whales
When the bridge announces a whale sighting, so many cruise passengers flock to one side of the ship or another you might think the ship will tip over. Look for whales on cruises in Hawaii, Mexico's Pacific Coast, Alaska, New England, Antarctica and elsewhere.
Snow
You may think of cruises as being about beaches and sunshine. But snow is in view on land or snow-capped peaks year-round in places including the Norwegian Fjords, Alaska, the Pacific Northwest, the Artic, Antarctica and New Zealand's Milford Sound.
By Fran Golden, USA Today ("Seven Wild Sights Seen from Cruise Ships", Sept. 23, 2013)
For more cruise news & articles go to http://www.cruisecra....com/index.html
Re-posted on CruiseCrazies.com - Cruise News, Articles, Forums, Packing List, Ship Tracker, and more