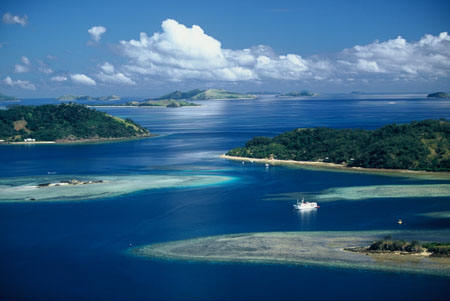 Take an exotic cruise this summer to some of the world's most adventurous locations. Although recent news of the Carnival Cruise ship disaster may affect your decision to take a cruise this summer, don't let it! There are more great experiences on cruises than bad ones. If problems do arise, a positive attitude and cruise insurance will likely divert it.
Australia and New Zealand
Visitors will be enchanted by the exotic rainforests of New Zealand, the beaches of the Australian coast and the deserts of the Outback. Highlights of a cruise to Australia or New Zealand could include:
Travel to Auckland, Melbourne, Hobart and Tauranga and encounter local wildlife like wallabies, Tasmanian Devils and koalas.

The Great Barrier Reef is designated a World Heritage Center by the United Nations Educational, Scientific and Cultural Organization as a World Heritage Center. Within it lives the world's largest assortment of coral reefs, 4,000 types of mollusc and 1,500 species of fish.

Fiordland National Park in New Zealand is world-famous for its scenic views of green mountains sprinkled with snowy peaks that tower out of the ocean's surface and surround bodies of water.

Explore landmarks in Australia's biggest cities: Sydney, Melbourne or Brisbane and experience local food and entertainment.

Take a pre or post-cruise trip to the Northern Territory of central Australia and visit Ayers Rock, also nnown as Uluru by the Anangu Aboriginal people. You can also visit "the bush," home to giant insects, kangaroos and dingos.

Cayman Islands
Clear blue waters engulf this small island paradise. Embody the laid-back attitude of island life while you take in the natural wonders that make this a Caribbean destination hot-spot.
Sting Ray City is a popular attraction. By boat travelers are taken to a sandbar where more than two dozen sting rays live freely. Snorkel, swim and interact with these gentle giants.

You can scuba dive down the Cayman Wall, a coral reef home to various species of fish and wildlife.

Enjoy the natural flora and fauna up close at Queen Elizabeth II Botanic Park.

Learn history, try local cuisine and shop at the Caymans' capitol of George Town.

Visit the town of Hell, home to unusual, rigid, geological formations.

Watch crocodiles and barracuda feed, or hold baby turtles at the Cayman Turtle Farm.

The Galapagos Islands
The Galapagos Islands are home to thousands of unique species of wildlife. Located off the Pacific coast of Ecuador, The Galapagos Islands are a great South American experience for lovers of adventure and nature.
Hike ancient lava fields where unique reptiles like land iguanas and giant tortoises' still roam.

Visit green, red and black beaches and encounter beached sea lions.

Venture through secret caves and lagoons and snorkel with sea turtles. Look out for sea turtles, whales, dolphins and other ocean life at Isla Isabela.

Punta Espinoza, located on Isla Fernandina is known as the marine iguana haven. The Isla Fernandina is also home to many sea lion nurseries.

At the Isla Bartolomé you can walk to the top of Pinnacle Rock, a volcanic cone, then swim with local Penguins after your hike down to the beach below.

Visit the Charles Darwin Research Station at the Isla Santa Cruz and meet some of the island's endangered wildlife.

The underwater caverns of Isla Santiago will enchant you. You may be accompanied by fur seals, Sally Lightfoot crabs, marine iguanas and sea lions.