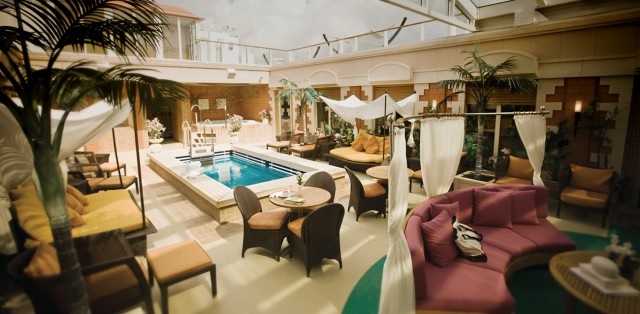 [Here are some excellent ideas to help you find some alone on a cruise ship full of fellow passengers, some without spending an extra dime!]
Cruising is by nature a group experience, but sometimes you want to get away and enjoy some down time. Here are some intimate shipboard places where you can be alone, either by yourself or just the two of you.
Stateroom balconies: In balcony cabins you can catch views and feel the ocean breezes, and even pretend you're on your own private yacht. But some balconies are more private and more spacious than others; consult with your travel agent.
Thermal Suites: These spa retreats have saunas and steam rooms, relaxation areas, sometimes even hydrotherapy pools. They are reserved for adults only. Because you have to pay a fee to use the facilities, these areas tend not to be crowded (though you may have to take turns on the heated ceramic loungers, a heavenly place to turn to mush).
Luxury suite complexes: At The Haven on Norwegian Cruise Line ships, including the new Norwegian Getaway, your Haven suite comes with access to a private restaurant, pool and sun deck, reserved for passengers in top accommodations (you can't even get into the complex without a private keycard). The Yacht Club on MSC ships has a similar VIP setup.
Adults-only sunning: Head to the adults-only open-deck space, called The Sanctuary on Princess ships (the largest being on Royal Princess), and hang out in plush loungers while your drinks are brought to you by attentive servers who may offer to mist you with cool water if you start to sweat. A fee is charged.
Private cabanas: On ships such as Holland America Line's Eurodam and Nieuw Amsterdam you can pretend you're a sultan while sipping champagne behind the billowing curtains of your private poolside cabana. Look for cabanas, too, on the cruise line private islands. A fee applies (extra if you want in-cabana massage services).
Daybeds: Covered daybeds on ships including Carnival Sunshine can be positioned on the rail of the deck, so you can watch the sea views without interruption. On SeaDream Yacht Club's luxury ships you can spend an overnight outdoors in a balinese daybed dressed with linens.
In-cabin dining: On all-inclusive luxury lines such as Seabourn, Silversea, Crystal and Regent Seven Seas, enjoy a private meal, elegantly served in your cabin course-by-course. For a fee, Princess ships will prepare a lobster and champagne dinner served on your balcony. On Norwegian ships, order a pizza for a casual date night anywhere shipboard.
Exclusive dining: Book dinner in an alternative restaurant (where tables for two are most plentiful), or splurge on a small group Chef's Table experience as offered on select Royal Caribbean, Norwegian and Princess ships, among others. Do your own dinner party in a beautifully decorated private dining room onboard Oceania Cruises' Riviera or Marina.
Private Porch: For an experience akin to sitting on your own front porch, book one of The Alcoves (a fee applies) on the Celebrity Reflection or Celebrity Silhouette. The covered retreats overlook the ship's real grass lawn where people play croquet, walk barefoot, watch concerts and picnic.
Couples massage: For a romantic interlude, nothing beats a side-by-side massage in a spa villa. Some of the spaces, such as those on the Disney ships, are equipped with open-air tubs for a private bath.
For help planning your next intimate cruise vacation, contact a travel agent specializing in cruise vacations.
By Fran Golden (USA Today, "The 10 Most Intimate Spaces on Cruise Ships")
For more cruise news & articles go to http://www.cruisecrazies.com/index.html
Re-posted on CruiseCrazies.com - Cruise News, Articles, Forums, Packing List, Ship Tracker, and more
Featured photo credit: Norwegian Cruise Line