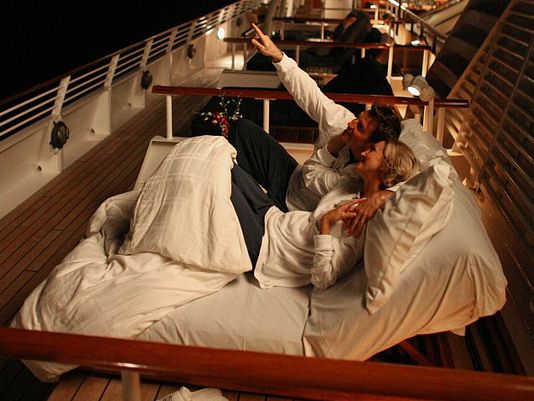 Cruising is by nature a group experience. Sometimes, though, you want down-time away from the crowds. You can catch ocean views from your own open-air space if you book a cabin with a balcony. Or splurge on one of these "private" cruise-ship retreats.
Open-air cabanas
Ships including the Royal Princess, Celebrity's Reflection and Silhouette and Holland America Line's Eurodam and Nieuw Amsterdam are equipped with private, open-air cabanas that you can rent poolside and elsewhere (Celebrity's come with views of a grass lawn). Lounge on plush furnishings while sipping champagne and other treats. Sample price: $50 to $149.
Day beds
On the two SeaDream Yacht Club luxury ships, couples can catch ocean views from Balinese day beds for two during the day and sleep on one at night. On request, crew will make up a day bed with a duvet and pillows for an ultimate overnight under the stars. No charge (available when a ship is in harbor only).
Chef's Table
Book the Chef's Table experience, as offered on select Royal Caribbean and Princess ships, among others, and schmooze with the ship's chef and a small group of other passengers over a specially prepared, multi-course meal designed for foodies – with wine pairings. Sample price: $95 to $130 per person.
Private dining
Throw your own dinner party on Oceania Cruises' Marina or Riviera in Privée ($250 fee), a gorgeous, contemporary, private dining room done up with a white oval table, chandelier and throne chairs and Ferrari Red accents. Wine and other alcoholic beverages are extra.
Spa time
Retreat to a spa villa, either on your own or with a partner, for a massage followed by time alone in a private whirlpool bath. Available on Disney Cruise Line ships, among others. Sample price: $200 and up.
By Fran Golden, USA Today
For more cruise news & articles go to http://www.cruisecrazies.com/index.html