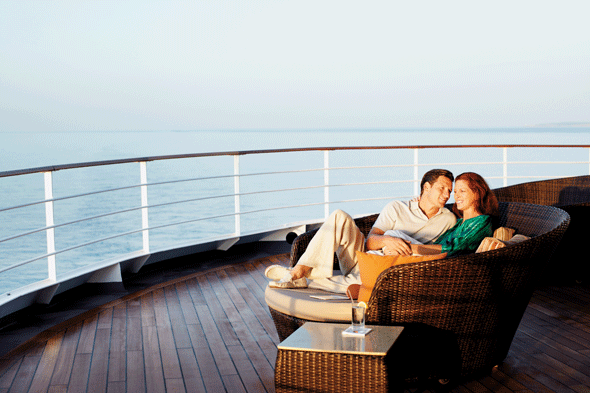 Nothing compares to romance on the high seas. If you hear the phrase romantic cruise and automatically think of 1970s shuffleboard matchmaking on "The Love Boat," then you will be in for a surprise when you board a ship with a private dining retreat, cabin balcony and spa.
Whether you decide to take a romantic cruise because it's your honeymoon, anniversary or Valentine's Day — or simply because it's a Tuesday in mid-winter and you want to canoodle with your loved one and fan the flame of your amore — you need to choose a love-inspiring destination.
A candlelight dinner on the deck of a cruise ship is great, but it pales in comparison to sugary beaches, blue lagoons or holding hands in the Mediterranean.
St Lucia: The Island of Love
Photo by whl.travel via Flickr
When it comes to love-inspiring cruise destinations, there are a lot of beautiful islands in the Caribbean to choose from, but St. Lucia, a small volcanic island in the Lesser Antilles is truly the island of love. The island is famous for the its Pitons, a pair of towering and majestic mountains that look like the gates to a tropical paradise. Love birds have been descending on St. Lucia's lush western coast for years, but it's still considered an off-the-beaten-path destination and nowhere near as crowded and busy as honeymoon hotspots like Jamaica or the Bahamas.
Photo by mrtopp via Flickr
While the secluded coves are ideal for snorkeling and sunbathing, St. Lucia has a trick up its sleeve setting it apart from other romantic Caribbean destinations. The Pitons may be the island's most famous landmarks, but it is also known for its pommel d'amour fruit. This pear-like fruit is native to St. Lucia and said to be a mild aphrodisiac. In other words, is there anything more romantic than sipping a pommel d' amour daiquiri with your loved one while overlooking the island's glistening waters and volcanic cliffs?
Cruising the Mediterranean
Mediterranean ports-of-call are a paradise for couples looking to enjoy La Dolce Vita, not to mention some serious alone time. From the dimly lit restaurants and romantic architecture of Venice to the stunning cliff sides of France' Cote d'Azure region, a Mediterranean cruise is the perfect sojourn for pinot grigio sipping lovebirds. So where do you go? Go everywhere. Most Mediterranean cruises are like a greatest hits package of coastal Europe. Just be sure to be adventurous and venture off the beaten path. For example, a city like Barcelona may be best known for its tapas culture and Gaudi architecture, but it also has a world-renown chocolate museum. Is there anything more romantic than giving the love of your life some Valentine's Day bouquets while sampling some delectable cacao bean confections? Nope. That beats making a reservation at your favorite steakhouse back in the States.
Photo of Barcelona architecture by Moyan_Brenn via Flickr
The cities and villages along the Mediterranean glimmer with world-class romance. The only thing you have to do is decide whether you want to cruise the western or eastern part of the Mediterranean. A western cruise will take you to popular places like Nice, Barcelona and Rome, while an eastern cruise focuses more on Greece and Croatia. Seaside promenades, Matisse-like colors, elegant cafe terraces overlooking azure waters — it doesn't get anymore romantic than that.
Photo of Croatia by eGuide Travel via Flickr