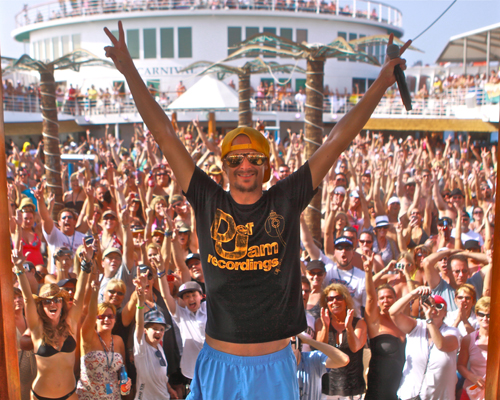 Considering going on a cruise but not sure it's your "thing?" Good news: The cruise industry has a variety of special interest trips that cater to every lifestyle. A personalized experience keeps travelers coming back for more each year.
Get to know like-minded individuals by taking a cruise that fits your lifestyle, hobby or special interest.
Culinary Cruises
With the popularity of the Food Network and Cooking Channel, people are opening their palates to celebrate cuisine on the high seas. There are several options when it comes to culinary and spirit-themed cruises. On various 2013 cruise vacations, you can explore the bold flavors of the Mediterranean, visit the homeland of Dionysus, the Greek God of Wine, or indulge in the famous squid, shellfish and fresh fish of Croatia. Celebrity Cruises offers a tangos and tapas cruise from Miami to Brazil in late fall 2013, or you can enjoy endless pizza and bottomless wine on a Roman voyage.
Prefer hops to grapes? Board an Alaskan craft beer cruise with hundreds of other beer enthusiasts. No matter your culinary pleasure, you can find a huge ocean liner or smaller ship ready to welcome you onboard for a unique and memorable experience.
Music Festival Cruises
If music is your passion, there are a variety of music festivals and concerts on board cruise ships, and you will easily find a cruise hosting your chosen music genre. Last year people cruised with KISS on Halloween and Blake Shelton in mid-October. Here is a sampling of options for the rest of 2013 and 2014:
Simple Man Cruise VII with Lynyrd Skynyrd

Kid Rock's Chillin' the Most Cruise 2014

Sail Across the Sun with Train

Groove Cruise with all types of electronic DJs

7th Annual Capital Jazz SuperCruise

Sports Fan Cruises
Never miss a Red Sox game? Start planning for the 2014 Red Sox Fan Celebrity Cruise, which sets sail out of Ft. Lauderdale and heads to Mexico, Grand Cayman, Jamaica and a private beach in Haiti. Get this: You sail with Red Sox broadcaster Joe Castiglione, legendary pitcher Jim Lonborg and other former Red Sox players, and you'll enjoy Red Sox Karaoke Night and a beach party.
There are other sports cruises hitting the high seas, including experiences for running, golf and sports fishing.
Hobby Cruises
No matter your special interest, there is probably a cruise that will cater to it. Often, themed cruises are organized by travel agents or interest groups and won't be found on the ship's website. Search the Internet using your hobby's keywords to see if there is an upcoming expedition.
You can find quilting and arts and crafts cruises, horror cruises and vampire cruises. There are fitness and running group cruises and trips for those that love politics. Join the goth group or pay tribute to Mark Twain with other literature junkies onboard. Most hobby cruises have special guests or celebrities for the ultimate draw. Did you love musician Rick Springfield in the 1980s? Take his cruise and you will most likely meet him.
Other special interest cruises include: Murder Mystery, Los Angeles Opera House, Film Festival, 13th Annual Big Bands at Sea, Make Em Laugh, Life is a Cabaret, Civil War, Dance, Dance, Dance, LGBT and Writers of the World, to name a few.
Finding Theme Cruises
Theme Cruise Finder is a comprehensive web portal which allows cruisers to browse hundreds of theme cruises hosted privately or by the cruise lines themselves. Theme Cruise Finder not only provides vacationers with a place to search for one-of-a-kind theme cruise vacations, but also allows travel agencies and theme cruise providers a venue to showcase all available theme cruises. This web portal is highly recommended if you're looking to see what kind of theme cruises are available. Chances are, there's a theme cruise for anything you could imagine!
Warning: Taking a cruise is addicting. You'll be hooked and ready to take the next excursion by sea.