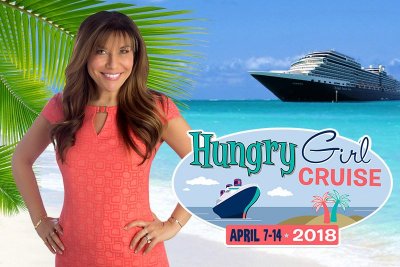 Lisa Lillien (a.k.a. Hungry Girl) is the creator of Hungry Girl and a guru of better-for-you eating. Nearly 3 million daily email subscribers and social media followers eagerly await her healthy recipes, food finds, and tips 'n tricks each weekday. Come spend a week with Lisa and her team, and learn how to lose weight and keep it off for good!
PACK YOUR BAGS FOR… 
WEIGHT-MANAGEMENT STRATEGIES THAT WORK
Learn how to outsmart your cravings, overcome common setbacks, and more! Bonus: Award-winning health journalist Robert J. Davis, PhD, will reveal some shocking food and fitness myths. See more event highlights here: http://cruise.hungry-girl.com/#hgevents
INSPIRATION & MOTIVATION
Hear from weight-loss superstars who won the battle with the scale. Through interactive discussion panels, they'll reveal their top smart-eating strategies and share their personal keys to success. Get inspired to sit on the panel at next year's cruise! Plus, down-to-earth cooking demos will show you how to make smart (and delicious!) at-home choices with ease.
TROPICAL DESTINATIONS
A private island in the Bahamas; duty-free shopping in George Town, Cayman Islands; storybook coral reefs in Cozumel, Mexico; and beach-side architecture in Key West… It's the adventure of a lifetime, so get your cameras ready! For port descriptions, click here: http://cruise.hungry-girl.com/#portdescriptions 
CALORIE-BURNING SECRETS
Learn simple ways to burn major calories from Mandee Miller, a physical wellness pro and Lisa's personal trainer. Mandee will also lead all-level workouts and reinvigorating mid-session stretches to music. And join Lisa and team for "Deckwalking," brisk walks around the boat to rack up your daily step count!
CUSTOM CUISINE
Enjoy group dinners with Hungry Girl entrées and desserts, complete with calorie counts! Of course, there will be plenty of indulgent dishes worth splurging on too... Feel free to indulge -- it's YOUR vacation!
PARTIES & ENTERTAINMENT
Come party with Lisa and the Hungry Girl staff! Snap selfies, sip low-calorie margaritas, and dance it up to Holland America's world-class live music!
LIFELONG FRIENDSHIPS
The Hungry Girl cruise is like a luxury summer camp for grown-ups. Connect with Lisa and fellow HG cruisers, and build a support system that lasts long after the cruise ends. Grab your mom, your sister, and your gal pals! (Husbands and kids can come at a discounted rate!)
For more information and to book the Official Hungry Girl Cruise, visit cruise.hungry-girl.com!