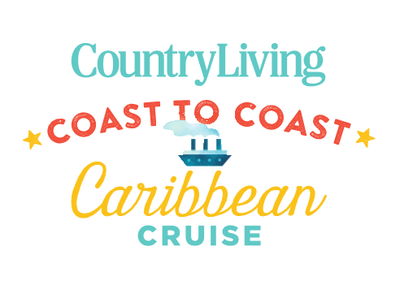 If you love country style, antiquing excursions, craft demos…and piña coladas with tiny (gingham!) drink umbrellas, then mark your calendars! On March 12, 2017, the Country Living Coast-to-Coast Cruise, aboard the Holland America Nieuw Amsterdam, sets sail from Fort Lauderdale for seven nights of bringing the magazine's content to life and giving cruisers exclusive access to Country Living editors, contributors, and special guests.
A LIFE CHANGING ENTERTAINING WEEK AT SEA!
Joining us on board for this exciting week will be the sassy and spirited JUNK GYSPIES, JOLIE AND AMIE SIKES!  These bona fide junkers, Texas businesswomen, and all-around southern girls will share their addiction to flea marketing and Americana-inspired design on the cruise through demonstrations, DIY projects, Q&A sessions, AND JOIN US FOR THE SPECIAL JUNK GYPSY PROM—DANCE THE NIGHT AWAY ON THE HIGH SEAS IN JUNK FASHION!   
Love Country Music?  The Country Living cruise is proud to present singer/songwriter/style setter HOLLY WILLIAMS . As a contributor to Country Living, Holly shares her love of design within the pages of the magazine, and on the cruise, she'll share what inspires her, her favorite go-to's for decorating, and secrets for adding soul to a space. She'll also give a special performance exclusively for Country Living cruisers and give us the backstory behind her songs. Don't miss this!
THERE ARE MORE SPECIAL GUESTS THAT WILL BE JOINING THE WEEK OF FUN, LEARNING, EXPLORING, AND ALL THINGS COUNTRY LIVING!  STAY TUNED!
OVER 12 HOURS OF UP CLOSE AND PERSONAL PRESENTATIONS TO HELP YOU HONE THOSE DIY PROJECT SKILLS AND COOK UP A FEAST!
Country Living editors and other special guests (surprise!) will offer everything from design consultations and styling seminars to crafting and cooking demos.  
Learn to:
Create farm-to-table fare
Mix those country cocktails
Learn to fix up that antique piece you love
View demonstrations on crafting
Design Consultations
Music
Cooking demonstrations

AND MORE!!!
THE CARIBBEAN ISLES ARE WAITING FOR YOU! 
Don't miss quality pool time spent on your mason jar-shaped pool float! Give it all you've got during once-in-a-lifetime jaunts to Turks and Caicos, the Bahamas, St. Maarten, and San Juan, Puerto Rico! And when the sun sets on those stunning Caribbean waters, there will be plenty of fun to be had with cocktail parties, karaoke nights, and more before calling it a night in your luxury cabin.
JOIN RACHEL BARRETT, EDITOR IN CHIEF OF COUNTRY LIVING!
"I can't wait to pack my bags for our first-ever Country Living Coast-to-Coast Cruise," said Rachel Barrett, Editor-in-Chief of Country Living. "First, I truly believe we have the best readers in the country, so the idea of hanging out with them for seven days to talk about all things Country Living—all while taking in the Caribbean sunshine!—is particularly exciting. When you combine that with farm-to-table fare, country-fied cocktails, antiquing excursions, craft demos, and design consultations, what more could you want?! It's essentially a floating Pinterest board! And we're already dreaming up clever ways to fold those bath towels into adorable farm animals."
Be one of the first 100 people to register, and you'll be invited to an exclusive cocktail party featuring all of our VIP guests.
(Psst: More special guests will be announced soon!  We will sell out!)
See you on the Lido Deck – Poolside!
For more information on the Country Living Coast-to-Coast Cruise, visit CountryLivingCruise.com.
Country Living (countryliving.com) is a shelter-lifestyle magazine focusing on a variety of topics including decorating, antiques, cooking, travel, remodeling, and gardening. In addition to its U.S. flagship, Country Living publishes a United Kingdom edition. Country Living is published by Hearst Magazines, a unit of Hearst (hearst.com),one of the nation's largest diversified media and information companies with interests in magazines, newspapers, digital media, business media and television. Follow Country Living on Twitter, Facebook, Pinterest, and Instagram.