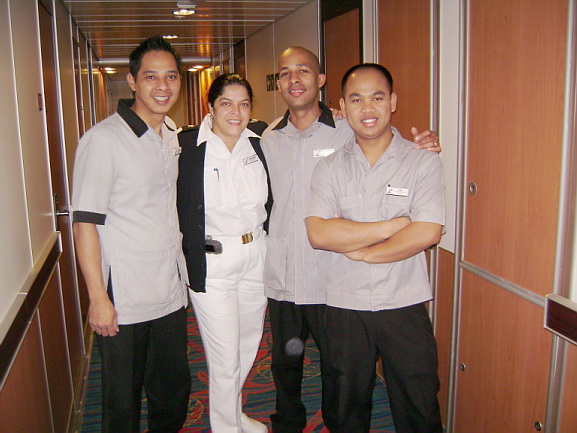 If you're considering taking a cruise for your summer vacation, take some advice from a man who has a dozen years of experience on the big ships.
That man is Bill Blake, senior newscast director at Live 5 News. When he's not at the "helm" of a live newscast, he's likely thinking about his next vacation. And after all that time at sea, he's learned a few things that can help you make the most of your cruise time.
For Blake, Alaska is second only to the Caribbean, as one of his favorite destinations.
"When you get out there, there's just no development, miles and miles of empty. Roads going through the mountains, and the animal experience there, can't be matched," Blake says.
Blake is always happy to share things he's learned along the way, such as why you shouldn't hang out by the pool if you want to stay cool on a cruise ship.
"If you look at a cruise ship, the way it's laid out, the pool is down inside a well, which means you get no breeze at all," Blake says. "So I mean our first cruise we went down there and we were sweltering, for the whole day. Really, if you want to get the best breezes, you want to be on the upper deck, where the wind comes across."
Blake says to also watch for auto-tipping.
All cruise lines add a charge of about $12 per day per passenger, to auto tip the dining staff and cabin crew, Blake says. That can add up to hundreds of extra dollars, you didn't expect to pay. Blake recommends you talk with the cruise line in advance, to find out if you can negotiate the auto tipping amount.
And check in again once you're on the ship, to be certain you understand what to expect.
Another tip: you'll need two swimsuits, so pack one swimsuit in your carry-on. Blake says it may take a little time for your luggage to be delivered to your cabin, so have a swimsuit with you, if you want to change as soon as you get to your cabin.
Then, there are those two little words.
Blake says cruise ship passengers should be very careful about saying the words vomit or diarrhea when talking with the ship's staff.
Granted, they're not the kind of words most people would work into a normal conversation. But on a cruise ship, over-indulging can make either happen.
"You're gonna be eating rich food, you might be having some fruity drinks and a lot of people they get an upset stomach," Blake says. "They get freaked out, they go running to the ship's doctor, they say I'm having diarrhea or vomiting and the ship's policy on that is to quarantine you for 48 hours, which means you're going to spend two solid days sitting in your cabin with them bringing you soup and crackers."
Blake says that's because the nasty stomach flu Norovirus is the cruise industry's worst enemy. Symptoms include vomiting and diarrhea.
So instead, Bill says, pack plenty of over the counter meds and try those first.
If you still don't feel any better, it could be something more serious, and then you should go to the medical staff.
By Ann McGill, WMBF News
For more cruise news & articles go to http://www.cruisecrazies.com/index.html
Re-posted on CruiseCrazies.com - Cruise News, Articles, Forums, Packing List, Ship Tracker, and more