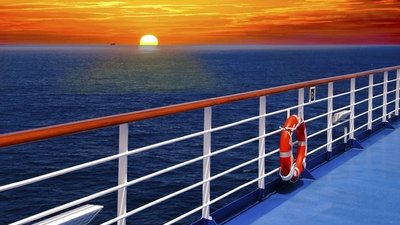 This is the second half of an article posted by BLOOMBERG which reveals little known facts about cruise ships.  Read the first half here: https://www.cruisecrazies.com/index.html/cruise-articles/5-little-known-facts-about-cruise-ships-r1580/
At a time when travelers are feeling more precious than ever about "authentic experiences," the cruise industry is doubling down on the exact opposite: completely manufactured fun. Leading the pack is Royal Caribbean Cruises Ltd., whose mega-ships are destinations unto themselves: Its restaurants, casinos, Broadway-caliber musicals, silent disco parties, skating rinks, karaoke, dance clubs, and escape-the-room experiences are such strong lures, some guests don't even bother to look up where the ship is docking.
So when the cruise line invited me to join the ranks as temporary director of its largest ship, Harmony of the Seas—which is as big as five Titanics—I knew I was signing up for the most manic week of my life.
As cruise director, my primarily responsibility was seeing to the happiness of 6,322 passengers and 2,200-plus crew. Over the course of a week, I had my hands in every department, from ship activities and entertainment to onboard revenue, making sure that everyone and everything worked in, well, harmony. From stocking the world's biggest buffet and staving off gastrointestinal disasters to hosting celebrity guests, everything is 10 times crazier when you're mayor of a city that's floating in the middle of the sea.
Every Ship Has an "Outbreak Prevention Plan," With a Hair Trigger
Nothing is scarier to cruisers than a Norovirus outbreak—which ship doctor De La Rosa says is almost always caused by a passenger who has brought the illness aboard, rather than poor sanitary conditions on the ship.
The U.S. Health Department requires that every ship maintain a detailed OPP, or Outbreak Prevention Plan. On Harmony, regular sanitary conditions are called "OPP1," and they get ratcheted up to "OPP2" when there's a "6 in 6," or six passengers reported ill in six hours. (You'll know OPP2 is in full gear when the crew gets less subliminal about its "wash your hands" messaging.)
If the incidence rate escalates and the situation reaches OPP3, guests lose the ability to handle their own food. The entire crew, from the ice dancers to the synchronized swimmers, is recruited to the buffets to help serve, and all restaurants and guestroom linens are put in red biohazard bags and obsessively laundered in a special facility on land.
If you want to avoid Norovirus like, well, the plague, stay away from short sailings, says figure skater and veteran crew member Chris Mabee. "Those trips tend to be the least-expensive, attracting both older passengers, who are prone to getting sick, and the young booze cruisers, who forget about hygiene."
As for the most common diagnoses at sea? They include upper respiratory infections, bruised bones, and the odd Viagra mishap. UTIs are also frequent, thanks to frisky honeymooners, and prescribing antibiotics can be hairy when passengers are committed to their all-you-can-drink packages.
Crew Members Are Trained to Deal with Handsy Passengers
Sleeping with a passenger will get you "chicken or beef," as Pavlov puts it—"That's what a flight attendant asks you when you're put on the first flight home."
The zero-tolerance policy seems to be an industry-wide standard—at Royal Caribbean, there's even staff training on how to defuse an escalating situation. More often than not, it's a vacationing guest trying to seduce a crew member. "Whenever I take photos with people, I always give a thumbs up," notes Pavlov. "My hands are visible, so no one can claim any inappropriate behavior." And with cameras covering virtually every nook and cranny of the ship, it'd be easier to rob a bank than take a bite of some forbidden fruit. (Though some crew members still use Grindr or Tinder to get a sense of who's on board.)
... but the Staff Quarters Are a Genuine Love Boat
With 2,200 crew, the staff quarters are a village unto themselves, with cabins, bars, a mess hall, shop, and gym set across decks 0, 1, 2, 3, and 12. (Most services are set off a second-deck corridor dubbed "I-95.")
Among the crew, dating is not just allowed but tacitly encouraged—they live onboard through the entirety of their contract without days off, often 10 months a year. They have their own calendar of daily events that range from karaoke sessions to poker games and foreign language classes. And since Wi-Fi is pricey, romance is very much analog.
Coupling up on the ship is like dating in dog years: Things move about seven times faster. Several crew members recounted instances when they put in a request to share a cabin with their new boyfriend after only a month of dating, or dropped the "I love you" bomb within the first week of meeting someone. And since relationships often end once one person leaves the ship, cruise couples tend to become "lifers." (Almost everyone I met in upper management met their spouse onboard.)
The Ship Has Genies, and They Can Perform Magic
Although bargain-basement discounts draw plenty of travelers to big-ship cruising, procuring Royal Caribbean's VIP status can offer a true luxury experience. The easiest way to get it is by booking into the Royal Suites Star Class; the company's crème de la crème offering includes 10 state-of-the-art apartments on Harmony of the Seas, with privileged access to pleb-free parts of the ship and butler-style service from a coterie of "Royal Genies."
The Genies are trained to cater to your every whim, but with limited resources at sea, this can require real creativity. Daniel, one of the genies, once had a couple ask for their suite to be filled with flowers. Unable to secure real bouquets, he had the pastry team bake dozens of petal-shaped cookies and scattered them around the room. And when one family got locked out of a peak-season December sailing, genie Andrei surprised them with an early Christmas by decorating their suite and putting wrapped presents under a makeshift tree.
"The hardest thing to do is host a celebrity on board," says Andrei, who has served a slew of A-listers and their families, including Kelsey Grammer, Adam Sandler, and Seth Rogen. To give them privacy amid thousands of cruisers, he says, "We usher them into shows after the lights go dark, and we grab them to leave five minutes before the show is done."
No matter how you earn your VIP status—or if you've earned it at all—my time on board proved that the crew will always bend over backwards to make sure you leave satisfied. Want to thank them? Tipping is great, but comment cards that explicitly name standout crew members make more of a difference. Your praise gets noted on their permanent record, earns them such onboard perks as free Wi-Fi, and helps secure promotions down the road.
By Brandon Presser, Bloomberg
Re-posted on CruiseCrazies.com - Cruise News, Articles, Forums, Packing List, Ship Tracker, and more
For more cruise news and articles go to https://www.cruisecrazies.com
Edited by Jason