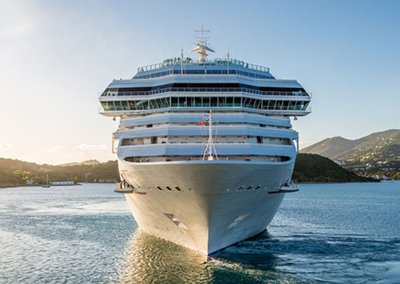 This is the first half of an article posted by BLOOMBERG which reveals little known facts about cruise ships.  Read Part 2 here:  https://www.cruisecrazies.com/index.html/cruise-articles/4-little-known-facts-about-cruise-ships-part-2-of-2-r1586/
At a time when travelers are feeling more precious than ever about "authentic experiences," the cruise industry is doubling down on the exact opposite: completely manufactured fun. Leading the pack is Royal Caribbean Cruises Ltd., whose mega-ships are destinations unto themselves: Its restaurants, casinos, Broadway-caliber musicals, silent disco parties, skating rinks, karaoke, dance clubs, and escape-the-room experiences are such strong lures, some guests don't even bother to look up where the ship is docking.
So when the cruise line invited me to join the ranks as temporary director of its largest ship, Harmony of the Seas—which is as big as five Titanics—I knew I was signing up for the most manic week of my life.
As cruise director, my primarily responsibility was seeing to the happiness of 6,322 passengers and 2,200-plus crew. Over the course of a week, I had my hands in every department, from ship activities and entertainment to onboard revenue, making sure that everyone and everything worked in, well, harmony. From stocking the world's biggest buffet and staving off gastrointestinal disasters to hosting celebrity guests, everything is 10 times crazier when you're mayor of a city that's floating in the middle of the sea.
There Is Secret Cruise Code Language
It's crucial for the staff to have code words so that passengers don't get freaked out if something goes wrong. A "30-30" means the crew is asking maintenance to clean up a mess; three times during my stint I called in a "PVI" (public vomiting incident). An "Alpha" is a medical emergency, a "Bravo" is a fire, and "Kilo" is a request for all personnel to report to their emergency posts, which happens in the event of, say, a necessary evacuation. Be wary of "Echo," which is called if the ship is starting to drift, or "Oscar," which means someone's gone overboard. A crew member told me he's had only four or five "Oscars" in 10 years of cruising.
Drunk Guests Can't Outsmart the On-Board Bartenders
If you thought those all-you-can-drink beverage packages were directly correlated with drunk debauchery at sea, think again. Only eight to 10 percent of passengers purchase unlimited booze packages—Royal Caribbean's guests are largely family travelers—and those who do are carefully monitored. Every single alcoholic beverage is poured with a jigger. Intoxicated passengers can have their SeaPasses (onboard credit cards) temporarily disabled, barring them from being served at any of the ship's bars. As for the most popular alcoholic beverage ordered on board? It's a cinnamon fireball shot.
According to Ivan De La Rosa, the ship's senior doctor, the biggest issue involving alcohol is when the ship is docked in Cozumel, Mexico. Mix an afternoon of unregulated drinking on land at Señor Frogs with tropical heat and a few glasses of Mexican tap water, and you've got yourself a guaranteed "PVI."
Cruise Staffers Regularly Engage in Subliminal Messaging
The first thing guests likely see in their cabins is a gleeful jingle about hand-washing looping on their television screen. It's catchy as a Katy Perry song and meant to steer you toward Purel pumps around the ship, each carefully positioned at high-traffic junctions (think entrances to the main dining halls and theaters) by senior staff. Along with the emcees' banter at large group events—"Have you washed your hands 50 times today? I have!"—the jingle is part of the crew's unwavering effort to stave off a potential Norovirus outbreak.
But sanitation is just one aim of the frequent subliminal messaging. Special promotions around the ship encourage passengers to scatter when certain areas become congested, and moving guests around the ship subtly encourages them to diversify (and increase) their onboard spending. If casino revenue is low, for instance, senior management might host a raffle or karaoke event at the far side of the slots to drive foot traffic and encourage passengers to linger (or better yet, play) a while. Activities managers will even film their daily newscast about onboard events with Starbucks iced coffees in hand, as a quiet reminder that passengers can get their venti latte fix on Deck Six. Often times, these veiled announcements are aimed at boosting the ship's bottom line.
There Is a Cruise Ship Burn Book
Dru Pavlov, veteran cruise director and my mentor during this Royal Caribbean stint, keeps a hallowed book of stupid comments and questions; passed down from one cruise director to the next as a right of passage, it makes great vamping material for event emcees.
The book Pavlov bequeathed to me included such doozies as: "Where's the elevator to get to the front of the ship?" Others include "Is the toilet water drinkable?" and "How long does it take the crew to get home every night?" My favorite contribution came three days into my tenure, when a passenger stopped me to complain that she could no longer find her cabin. The ship had been parked backwards, she claimed.
All Cruise Guests Basically Eat the Same Things
Freezers on board Harmony of the Seas are the size of New York studio apartments—and stocking them is an art form. Before each sailing, the inventory team receives enough ingredients for 20 different dining venues, plus servings for the 2,000-member crew. (The total cost, including such other consumables as paper towels, is about $800,000.) Overestimate the order, and the voyage becomes less-profitable (and wasteful); underestimate, and you'll risk a riot over coconut shrimp.
Luckily, passengers' eating habits are fairly predictable. On the average week-long cruise, Royal Caribbean estimates its guests will be 80 percent American, consuming around 3,000 bottles of wine, 7,000 pounds of chicken breast, and almost 100,000 eggs.
If more than 80 percent of the guests are American, the crew orders extra ketchup. When the percentage of Chinese passengers increases, they bump up the supply of sliced fruit, seafood, and rice. Latin Americans consume more red meat and Coronas (which also requires additional limes). And family-prone Spring Break cruises require three times as many chicken nuggets. The one thing that never changes no matter who is on board? Toilet paper. Around 9,600 rolls are used each week.
By Brandon Presser, Bloomberg
Re-posted on CruiseCrazies.com - Cruise News, Articles, Forums, Packing List, Ship Tracker, and more
For more cruise news and articles go to @ https://www.cruisecrazies.com