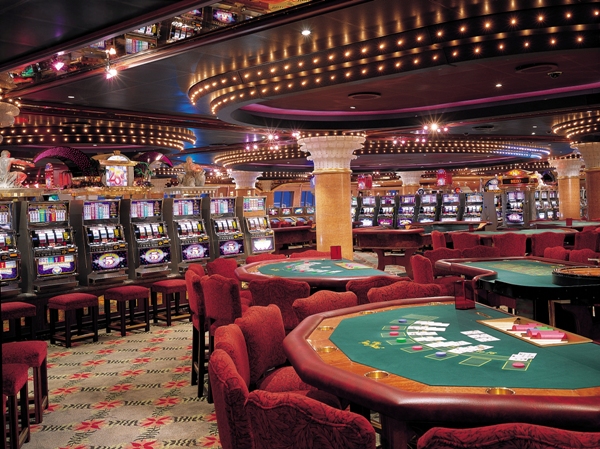 Gambling is a popular activity aboard cruise ships and it's a significant money maker for the cruise lines. The types of casino games offered onboard may vary, however you can be certain the most well known and popular ones are available - Blackjack, roulette, poker, and of course a ton of slot machines. If you're a hardcore gambler and are seeking a specific type of casino game, you may want to check directly with the cruise line, prior to booking your cruise.
If you're planning on gambling a good amount on your next cruise, perhaps some pre-cruise practice with an online gaming destination such as partybingo.com will be helpful. Party Bingo offers a variety of online casino games including roulette, blackjack, and more.
Upon boarding the ship, you'll notice the casino is closed. That's because gambling is illegal in most of the United States. However, different rules apply in International waters, and you'll notice that after the ship departs from land and is several miles away from the coast, the casino will open. Let the games begin!
In just about all cases, the onboard casino will also be closed while the ship is docked at any port of call. This is to abide by local regulations which if you think about it, makes sense. After all, cruise ship casinos remaining open while at port would result in less passengers debarking the ship to explore the local destination which may include their own gambling attractions.
Gambling within the onboard casino is similar to gambling on land. Traditional casino rules apply such as minimum age limits and the prohibition of photography. If the rules for specific games differ from on land, there will likely be visible signs or rules posted. If you're in doubt, ask a casino employee. There are also pamphlets available around the casino which explain the rules for all games offered.
Looking to learn a new game while onboard? Not to worry, most ships offer educational courses which teach you how to play a particular game. Looking to participate in a competition? Chances are your cruise already has this covered as part of the calendar of activities. These are always fun to watch.
Whether you're looking to learn a new game or brush up on your skills before your next cruise, there are a variety of internet source which can assist. Wikipedia is one of many great resources where you can learn all you want about casino gaming.
Do you gamble onboard? Have you ever won BIG? Any onboard casino stories? Add your comments below!