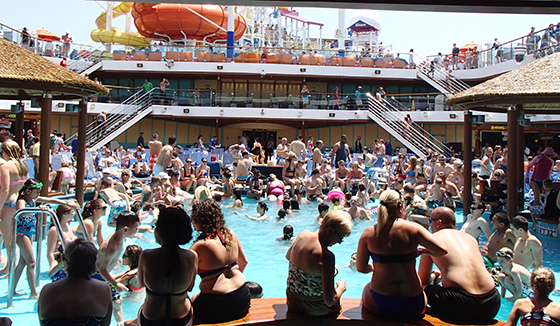 For the man who wants a great bachelor party before the ring, a Caribbean cruise offers ample time to party, soak up the sun, and make memories with your pals before the ceremony. While the stereotype of cruises is romance and couples, many cruise lines actually have cruises geared toward single folks that are ideal for adventurous bachelors.
Finding a Cruise
According to CruiseMuse, many cruise lines cater to the singles scene. Most cruises offer ample entertainment opportunities sure to satisfy bachelors: casinos, live music shows, spa packages, and more. Shore excursions such as scuba diving or ziplining are the perfect way to round out activities on the ship. Since many cruises also offer food and drink packages, your friends can drink what they want, when they want, without overspending. A knowledgeable travel agent can help you find the right cruise for your needs, taking trip length, food and drink package, and overall vibe in mind.
It needn't be all party games on a bachelor's cruise. According to Princess Cruise Lines, many ships offer adults-only casual entertainment, physical fitness and on-board dining. These may appeal to bachelors looking to let off wedding stress and steam without overindulging.
Preparing for a Cruise
Planning for an out-of-town trip such as a cruise takes more work than just getting ready for a night of heavy drinking with the boys. If your bachelor friend has a pool, a pet or a garden, the party will take some extra planning. Use pool liner products to protect the pool during the epic journey, so your friend doesn't come back to a dirty, yucky pool. If the fiancée doesn't want to pet sit, and your buddy doesn't already have a preferred pet sitter, his local vet can help identify a local pet sitter to watch the animal. Also, any local friend of family member in town can arrange to stop by a few times and water the plants or garden while you're away.
Cruise lines typically provide a packing list, based on the time of year and the cruising destination. CruiseCrazies.com also has plenty of packing tips for newbies that are a must-read. This list will help your friends pack for the cruise, but it won't cover everything. Read cruise policies to determine whether you can bring your own alcohol on board the boat. To commemorate a bachelor party, you might want to have a gentleman's scotch tasting and cigar bar. Make sure your cruise isn't non-smoking, first.
Do's and Don't's for the Big Night
While the aim of the bachelor party is to give the groom a memorable experience, the party should not negatively impact the wedding. The Leavenworth Times recommends holding the party no more than three days before the wedding, so plan to get back from your cruise on this timeline. While you'll want to take photos of the cruise, do be tactful in terms of social shares. Even if the groom overindulges, the friends back home and the fiancée won't want to see the pictures of big-night excess. While unexpected expenses do arise, it's tacky to ask the groom to contribute. Only invite people who can afford the trip, then divvy up the cost among guests.