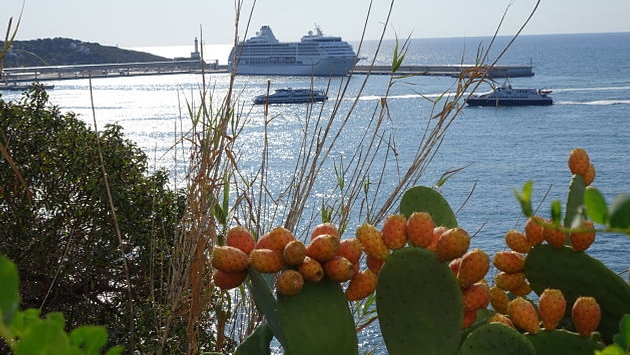 (I thought I'd share one traveler's recent experience on board a Regent Seven Seas luxury cruise – courtesy of TravelPulse – and several reasons why a luxury cruise might not be as unreachable as you think!)
So this is how the other half lives. I took a cruise on Regent Seven Seas Mariner through the Mediterranean, and it has opened my eyes to what luxury cruising is all about.
The price is not right for most travelers who scrape and save each year to afford one special trip, but if you have a milestone anniversary or birthday to celebrate or have designated a luxury all-inclusive cruise as a must-do experience, then make sure you put aside your pennies (you'll need a lot of them).
After dozens of cruises on the mass-market lines that typically price out about $100 per person per day to get onboard, I was able to set sail with Regent Seven Seas on my first luxury cruise. These trips typically run about $300 per person per day and higher (depending on promotional offers), but you'll love the level of service, high-quality meals and much more about these voyages.
We sailed for nine days, leaving from Lisbon, Portugal, and stopping in five ports in Spain (Cadiz, Alicante, Ibiza, Malaga and Barcelona), three in Italy (Genoa, Livorno and Rome), Saint Tropez, France, and Monte Carlo, Monaco. Here are the best things I discovered about cruising on Regent Seven Seas Mariner.
Excursions included. You get to choose from free excursions in every port, led by expert guides.
Fewer crowds. The ship holds 700 passengers and has plenty of space to accommodate them all. Public areas are never clogged, and you can always get a lounger at the pool area. Plus, these loungers feature extra comfy padding.
Drinks, anybody? Order what you want (except a selection of premium liquors), and you won't have to sign for it the way you do on mainstream cruise lines.
Use that mini-bar. Speaking of drinks. Your cabin's mini-bar is yours to raid. Soft drinks, waters, beers, etc. They'll all be refilled for you. Don't like Coke but adore mineral water? Let your cabin steward know, and he'll make sure your fridge is stocked just the way you want it.
Gourmet meals — in your bathrobe. Order a meal to be delivered to your room. You get the same delicious courses being served at the ship's restaurants, right in your cabin if you so desire.
Smaller ports. Regent Seven Seas can access smaller ports that can't handle larger mass-market ships. This allowed us to walk off right into the historic city centers of Malaga and Ibiza in Spain, and right in the harbor in Monte Carlo, for example.
Balconies. All staterooms and suites feature balconies, so you get to enjoy the fresh air and gorgeous views as you're sailing and visiting exotic ports.
Cookies. It's the little touches that you'll love on a Regent Seven Seas cruise, and the 24-hour cookie station was a fave of mine. OK, maybe it technically is a coffee/tea station, but I went strictly for the cookies and other pastries.
Fabulous fresh fruit. A fresh fruit plate is replenished daily in your cabin.
Bon voyage bubbly. You receive a welcome-aboard bottle of Champagne in your cabin.
Free Wi-Fi. Internet access has zoomed toward the top of passenger lists of must-have amenities, but the price can be prohibitive on most cruise ships. Regent Seven Seas offers free Wi-Fi to most its passengers. And beginning in winter 2016, all passengers get free Wi-Fi.
No tipping. Gratuities are included in the price of your cruise.
Fly for free. Round-trip flights from gateway cities are included in your cruise fare.
When you tally up all the extras that are included and compare this to the a la carte-type pricing for certain amenities on major lines, Regent Seven Seas Cruises can prove to be an affordable way for you to step up for a quick taste of luxury.
Article Courtesy of John Roberts (Travel Pulse, 12.3.15) and Seven Sea Journeys/News
Re-posted on CruiseCrazies.com - Cruise News, Articles, Forums, Packing List, Ship Tracker, and more.
Please visit CruiseCrazies.com for more cruise news & articles.
Photo courtesy of Regent Seven Seas Cruises