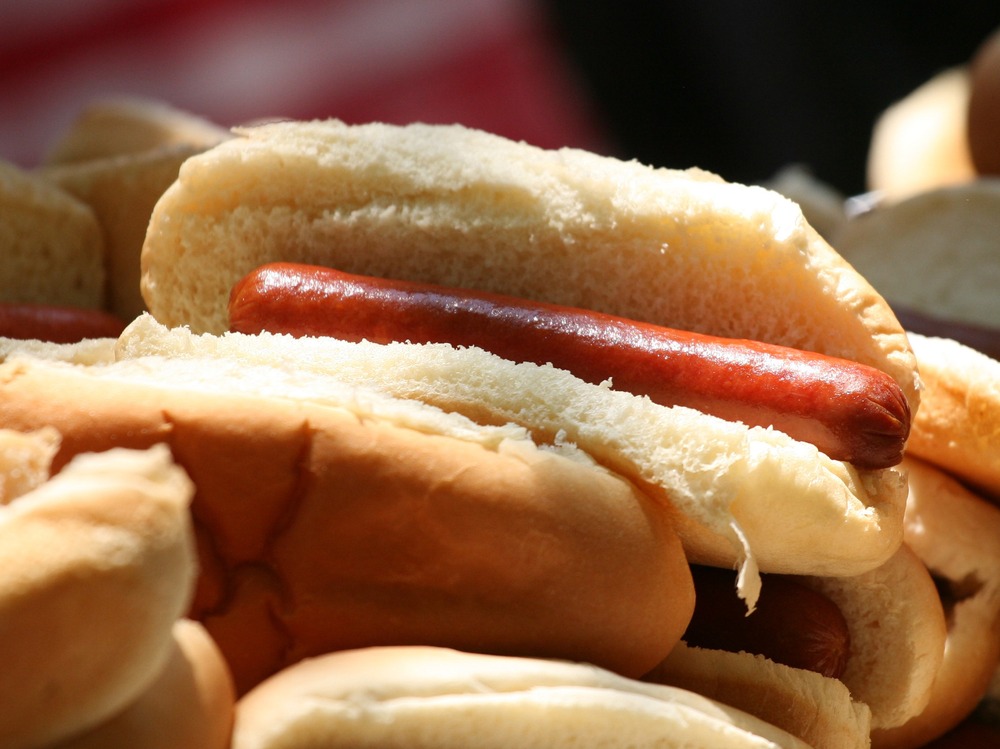 You won't find McDonalds or Arby's or Wendy's at sea, but that doesn't mean you can't feed your junk food habit. Cruise ships are full of fast food options. Here are some that make blowing the calories worth it.
Hot dogs – At Royal Caribbean's Boardwalk Dog House you can belly up to the open-air counter for choices including all-beef, Kosher-style Coney Island hot dogs, brats and sausages – with all kinds of toppings (available on Allure of the Seas, Radiance and Splendour).
On Norwegian Cruise Line's New York-based Norwegian Breakaway, grab a Sabrett's all-beef dog with onions in sauce and other classic toppings, served on The Waterfront promenade from an authentic New York street cart.
Burgers – Food Network star Guy Fieri delivers fat, greasy, yummy burgers at Guy's Burger Joint, poolside on six Carnival ships (each producing 1,200 of the popular burgers per day). Fieri uses 80/20 ground-chuck and encourages topping of lots of cheese and his Donkey Sauce (a secret mayo). Those who really want to pig out have the option of the Pig Patty, made of bacon (on the Carnival Breeze, Conquest, Glory, Liberty, Sunshine and Triumph).
Head to the Waves Grill near the pool on Oceania Cruise ships for the most delicious gourmet burgers at sea, made of Black Angus beef and served with toppings including Swiss cheese and/or bacon and Bourbon BBQ sauce. If that's not extravagant enough try the Kobe Burger, made with Wagyu Beef and topped with truffle sauce (on all five Oceania Cruises ships).
Pizza – Princess Cruises takes the pie here serving delicious Neapolitan-style hand-tossed pizza that earns its claim of best at sea – whether you go with plain cheese or a variety of toppings. Grab a slice or whole pie poolside on all Princess ships or head to complimentary, sit-down pizzerias on the Grand Princess, Sapphire Princess and the new Royal Princess (also available delivered to your cabin for a fee of $3).
Taco bar – On all Holland America ships, adjacent to the poolside Terrace Grill you'll find a do-it-yourself taco bar featuring flour tortillas, crispy taco shells and a broad choice of fillings – including chicken fajitas, chili and amazing mango salsa. Some days there are even hot tamales.
Indian food -- Lovers of Indian food will salivate at the Tandoori ovens on select Carnival ships, outdoor venues where you can load up on Indian-style chicken, meat and fish, curries and fresh-baked nan bread (on the Carnival Breeze, Conquest, Glory, Liberty, Sunshine and Triumph).
Chili fries -- Johnny Rockets hamburger joints on Royal Caribbean ships include on their menus crispy fires smothered in chili, gooey cheese and onions. They are hard to resist, despite a $4.95 cover charge to get into the restaurant (on 11 Royal Caribbean ships).
By Fran Golden, USA Today ("The Best Fast Food at Sea")
For more cruise news & articles go to http://www.cruisecra....com/index.html
Re-posted on CruiseCrazies.com - Cruise News, Articles, Forums, Packing List, Ship Tracker, and more
Photo credit: www.nbcnews.com